4 Teams That Should Actually Sign and Start Colin Kaepernick Right Now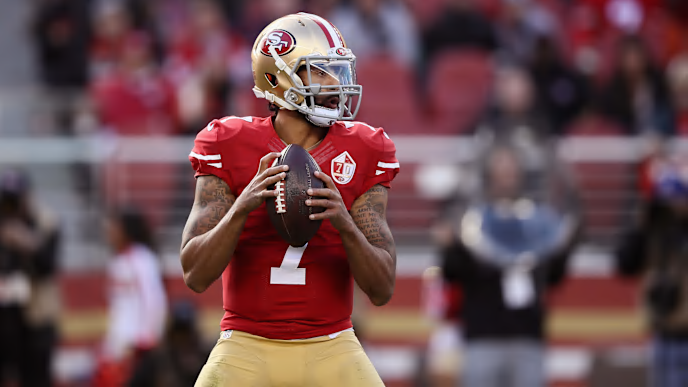 Just two weeks into the NFL season, the quarterback position has been hit with a massive plague of injuries. Nick Foles, Ben Roethlisberger, and Drew Brees have all gone down, just to name a few (to say nothing of Andrew Luck's retirement. Remember that???).
With obvious needs for a suitable signal caller across the league, one man's name continues to be brought up, yet still remains outside the game looking in: Colin Kaepernick. While he's far from a perfect QB, Kap still possesses the skills to lead a team to some much-needed wins. Here are four teams that should give him a call right now.
4.

Carolina Panthers
Cam Newton didn't seem right during his Week 2 game against the Tampa Bay Buccaneers. As it turns out, he suffered a mid foot sprain, the same injury he dealt with in the preseason. With no timetable for Newton's return, the Carolina Panthers are leaning on Kyle Allen. The NFC South is wide open and up for grabs, so why not bring in Kaepernick in relief of Cam, at least until he gets himself right? Let's not forget, Kaepernick's good friend Eric Reid is a Panther. Why not?
3.

New Orleans Saints
The New Orleans Saints' Super Bowl odds took a massive hit after Drew Brees suffered a right thumb injury. Now out about six weeks, the team will rely on Teddy Bridgewater, whom the team paid a hefty penny to be their backup, and do-it-all playmaker Taysom Hill. If Bridgewater doesn't pan out in the open NFC South, Kaepernick could be an option and can lead New Orleans to some wins, especially with Alvin Kamara and Michael Thomas at his disposal.
2.

New York Jets
The New York Jets quarterback room has perhaps been hit the hardest in the NFL. Sam Darnold is out indefinitely after contracting mononucleosis and Trevor Siemian suffered a nasty, season-ending ankle injury on Monday against the Cleveland Browns. That leaves the Jets with Luke Falk as the lone QB until Darnold is cleared for return. If the Jets want to salvage their season, especially with the weapons they have on both sides of the ball, Kap could be the answer.
1.

Miami Dolphins
This comes as the least surprising candidate of all. The Miami Dolphins have been outscored 102-10 through the first two weeks of the season. Given the state of their offensive line, it's doubtful that Ryan Fitzpatrick or Josh Rosen will be able to make it through 2019 unscathed. Perhaps Colin Kaepernick's best shot to prove his worth will be on the Dolphins. Let's not forget that he was reportedly interested in signing with Miami back in March; while the fit makes perfect sense, it'd be highly doubtful considering the Dolphins' intent to tank the season away.