Former Lakers Star Lamar Odom Pens Raw and Emotional Instagram Tribute to Kobe Bryant
By Adam Weinrib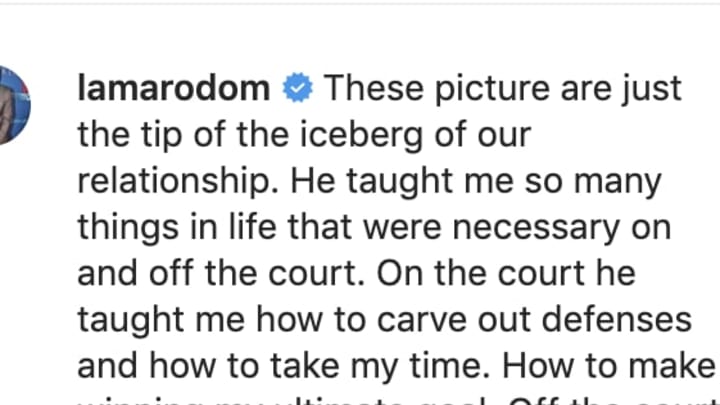 Lamar Odom pens emotional tribute to Los Angeles Lakers teammate Kobe Bryant /
Kobe Bryant was larger than life, thanks in part to the many lives he touched (and helped save).
Former Lakers champion Lamar Odom has lived through plenty of devastating downs during his roller coaster life, surviving addiction and battling out of a coma after his 2009 and 2010 NBA championships as a member of the Lake Show (and, first and foremost, as one of Kobe's trusted allies).
Odom took to Instagram to discuss the monstrous hole of Bryant's early departure, as well as the stunning breadth of their friendship.
Though the entire paragraphs-long recollection of Bryant hits tremendously hard, this passage could strike daggers into even the coldest heart: "No way God took my brother this early. I know I been through my own stuff in life with using drugs and not being good to myself. When I went through that Coma situation if God would have came to me and said we would take me and spare Kobe I would have rather that happened."
Of course, when Odom was at his darkest place, Bryant was by his side, convenience be damned.
Not shockingly, however, Odom chose the end of his remembrance to announce he'd be getting shots up early Monday morning in honor of Bryant. Even in death, all the Mamba does is motivate.