Draymond Green Calls Out Kevin Durant in Comments of IG Photo of KD's Family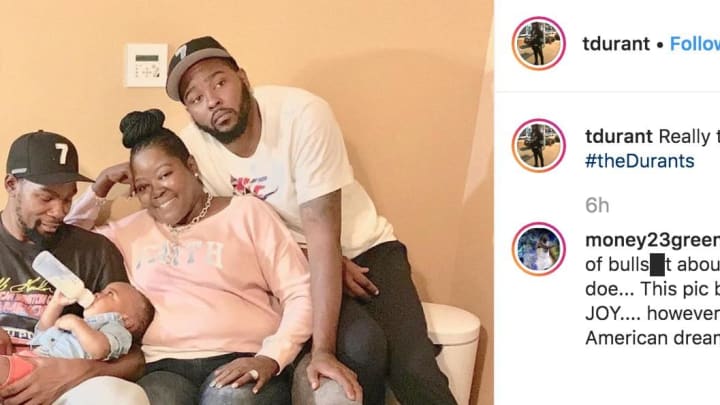 As anticipation builds for the upcoming NBA season, Draymond Green went to Instagram to remind us of some drama from the past.
On Tuesday, Kevin Durant's brother, Tony, posted an Instagram photo of the family welcoming a new child, with the superstar foward holding the infant. Green made something of a passive-agressive comment, though it was congratulatory at the same time.
The Warriors dynasty didn't end on a high note, with a series of injuries and chemistry issues that ultimately led to Durant signing with the Nets this past summer following an NBA Finals loss to Toronto. It's impossible to pinpoint exactly what caused the breakup, but many speculate a major catylyst for it was the verbal battle between Durant and Green during a game last November that spilled over into the subsequent months.
Regardless of what ultimately happened beteween the two, it's in the past and each player is moving on to a new chapter in their life. Green seems to be squashing the previous drama, but not without a parting jab. Knowing KD's itchy Twitter (and IG) finger, it's hard to rule out a response in due time.