Danny Garcia's Next Fight Should Be Against Manny Pacquiao and Absolutely Not Errol Spence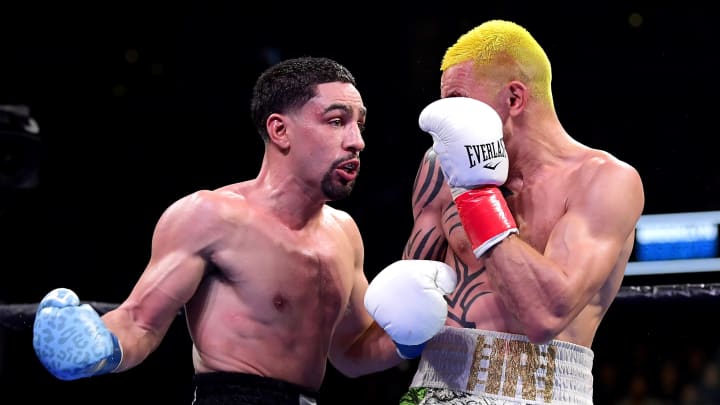 12uppercut was proud to be in attendance to watch Danny "Swift" Garcia do what every human being with a pulse (and a likely plurality of sentient undead) thought he'd do Saturday night at the Barclays Center in Brooklyn: burn up heavy underdog Ivan Redkach like a kid in the driveway with a magifying glass and a legless ant.
But curiously, Redkach was upstaged on his own card by the Ghost of Fight Nights Yet to Come.
Garcia had been on a collision course to take on Errol Spence Jr. for the WBC and IBF welterweight titles before the latter suffered a wild, scary automobile accident. Fortunately for the pound-for-pound dandy, he's back in public again and has resumed at least a modest training regimen -- but for the sake of the best possible 2020 the boxing world should hope to have, Al Haymon and Premier Boxing Champions should not fall victim to ceremony and rush to make a Spence-Swift title fight this fall. We actually need Danny Garcia vs. Manny Pacquiao, and for one big reason:
Anything that puts more distance betwen ourselves and a much-discussed but maddeningly out-of-reach Errol Spence-Terence Crawford superfight for pure world welterweight supremacy should be avoided at all costs.
Well, that's encouraging. But none of us are getting any younger, damn it! Chop chop!
In all of boxing, there are only a few fights you could possibly make that would attract legions of casual fans without also being shameless, sneering publicity stunts. Wilder-Fury II is coming next month, with the winner teeing up a blowout with Anthony Joshua. We could see the completion of the Canelo Alvarez-Gennady Golovkin trilogy within a year's time. But next on that list simply has to be Crawford vs. Spence (no offense whatsoever to Danny Garcia, who is one of the finest Garcias boxing today). And doing anything but making a bee-line for that dream mathchup at 147 pounds would be a pugilistic sin.
It won't be easy to make this fight because of promoter politics, so let's not mess around. We gotta start jumping hurdles and cutting checks right now.
As a Top Rank/ESPN fighter, Bud Crawford has had a nigh-demoralizing amount of trouble getting compelling fights despite holding the WBO belt. His last fight, an ultimately forgettable TKO win against Egidijus Kavaliauskas, could have been promoted with the tagline, "REALLY?" And while he's been linked to a potential Top Rank-PBC co-production against former 147-pound titlist Shawn Porter -- which would be great entertainment, to be fair -- this proud and historic weight division can get the best of both worlds.
Give Garcia a winnable shot at Pacquiao's WBA title while also setting up a potential fight of the year in Bud vs. Errol. Merry welterweight Christmas, everyone.