Cubs' Twitter Invited Padres Fans to Roast Them After Loss and Then Rated the Responses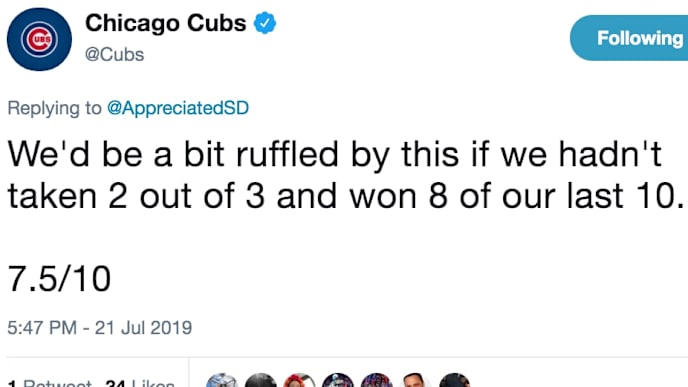 The Chicago Cubs defeated the San Diego Padres in their weekend series, but they lost the battle on social media.
For some reason, the Cubs' official Twitter account essentially invited Padres Twitter to bring forth a roast party, and the Friars' faithful didn't waste the opportunity. But the Cubs had some fun with it and rated the responses.
So maybe it wasn't a loss after all.
Honestly, that would've been a great one if Javy wasn't a human highlight reel for the entire series.
Can't forget John Cena!
The Friar flying the burrito! Can't beat it honestly.
Another Friar one, but the Cubs made sure to roast this person in the process.
We'll be seeing those in their next series assuming the Pads can get a least one win in four tries.
Cubs' Twitter did NOT like this one alluding to the 1984 NLCS, during which the Cubs won the first two games of the series and then got eliminated after dropping the next three.
Ouch.
We can't argue that Manny Machado stuck it to Joe Maddon for a good portion of the weekend though...
Looks like this person tried to hard and rightfully got a terrible score.
BUT THIS ONE WAS PERHAPS IN GOOD TASTE!
Those are fighting edits!
Here's one we can all get behind.
You better rate those dogs above a 10.
But we think we found the best one.
Yup, that's the winner.
But they didn't respond to arguably the funniest one!
It wasn't Bartman! It was the Friar all along!