Chris Boucher Vows to Get Revenge on DeMar DeRozan After Filthy Poster Dunk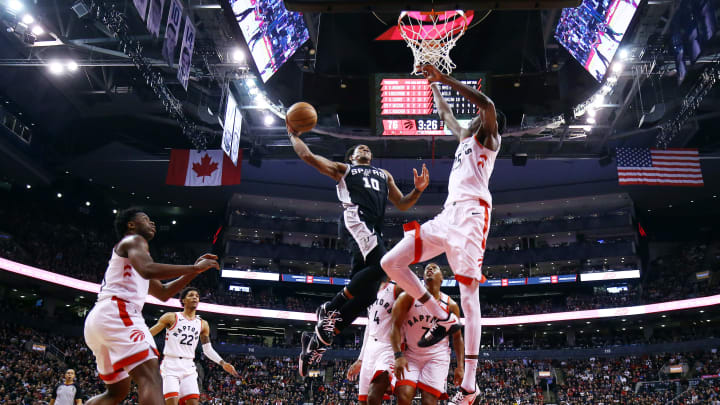 San Antonio Spurs guard DeMar DeRozan spent nearly a decade playing for the Toronto Raptors, the same team that drafted him out of USC in 2009. DeRozan scored at least 20 points per game in his last five seasons with the team but was ultimately shipped off to San Antonio as part of the Kawhi Leonard deal.
Well, DeRozan extracted a bit of revenge against his former team on Sunday night, throwing down one of the most vicious dunks of the 2019-2020 NBA season over young center Chris Boucher.
DeRozan dribbled behind his back and blew past two defenders before meeting Boucher at the rim. The former Oregon Duck looked like he had seen a ghost when the dunk knocked him to the hardwood, but he had a perfect bounce-back mentality in the aftermath.
Boucher, who specializes as a shot blocker, is hopeful he'll win the next battle between him and DeRozan, should the opportunity present itself.
DeRozan's dunk and 25-point night helped catapult a second-half comeback in the Spurs' 105-104 win over the Raptors. Boucher will have a chance to avenge himself when the two teams meet again in San Antonio on Jan. 26.