Chase Hooper Has Excellent Response to Twitter Trolls After Loss in UFC 250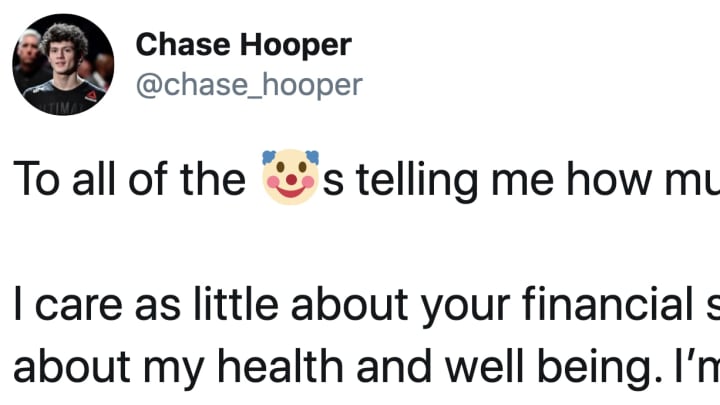 Rising UFC star Chase Hooper /
20-year-old wonderboy Chase Hooper's meteoric rise to the top of the UFC slowed to a grinding halt after Alex Caceres beat him to a pulp over three rounds at UFC 250, winning the fight via unanimous decision.
After the fight, Hooper was slammed by Twitter trolls and gamblers who claimed that he cost them a lot of money. Hooper attacked anyone who came after him complaining about money, citing the physical and emotional toll the sport takes on him, adding that he "doesn't owe them s***."
It's true! He does not!
Hooper might be extremely talented, but he's just 20 years old, while Caceres was participating in his 28th fight in MMA. That was a grown man going against a kid, and Hooper's inability to stand with Caceres as a boxer ultimately sealed his fate.
Hooper has a lot to work on, but his status as one of the most promising prospects in the UFC is still very much alive. Given how he eviscerated his Twitter critics, he has the personality on social media to become a star in this sport, which is almost as important as what gets shown off in the ring.