Cardinals Ace Jack Flaherty Tweets Depressing Indictment of MLB Owners in Worsening Dispute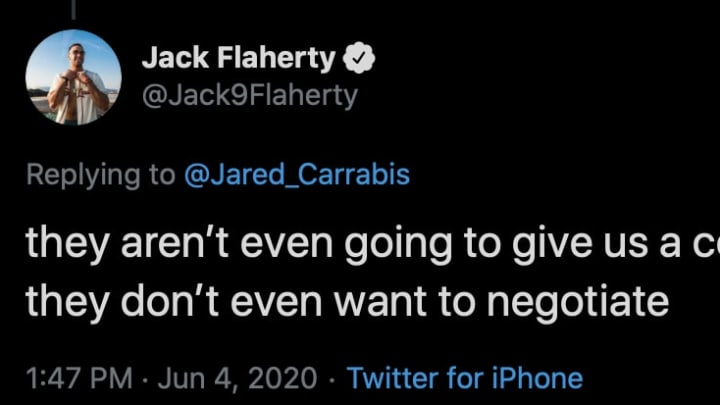 St. Louis Cardinals right-hander Jack Flaherty tweeted a depressing indictment on the fate of the 2020 season. /
St. Louis Cardinals right-hander Jack Flaherty hasn't shied away from voicing his frustration with the lack of momentum from MLB owners to strike a fair, amicable deal with the players' union so that the 2020 season can be realized. The 24-year-old ace was right back to bashing the stingy ruling class on Thursday, and it's not going to lift any baseball fan's spirits.
In response to conflicting outlooks from MLB insiders Joel Sherman and Jon Heyman, Flaherty dropped a disheartening take on Twitter about the owners' alleged unwillingness to negotiate in good faith.
This tweet comes approximately 24 hours after it was reported that the MLB will reject and won't even counter the players' proposal for a 114-game regular season. That report included the owners' dream scenario of playing as few as 50 games before going to the playoffs.
Though this blueprint may appease a lot of fans in that each game would carry higher stakes, it's anything but an ideal circumstance for the players, who would bank a comparatively disappointing salary while taking on a great health risk by playing amid this coronavirus pandemic.
Flaherty's posts are difficult to swallow, but he's just calling it like it is. There are rumors swirling that a handful of owners are willing to take the financial hit that would come with the cancellation of the 2020 season entirely; the fact that they aren't even considering extending a counter-offer to the MLBPA is a sad thing indeed.
It's looking increasingly likely that the fate of the campaign will have to come down to the players filing a grievance. The thought of such a reality is sickening when you consider how much money these owners are worth.