Bruins to Engage in Extension Talks With Head Coach Bruce Cassidy This Summer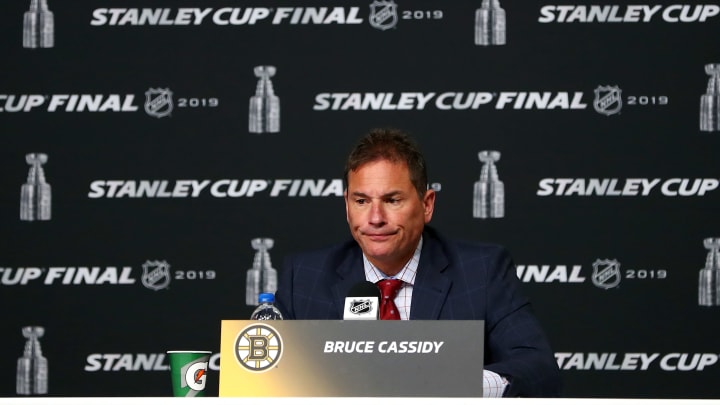 The Boston Bruins finished the NHL season as the best team in the Eastern Conference, outlasting the record-setting Lightning (by plenty) and nearly capturing another Stanley Cup.
Although they lost to the St. Louis Blues in seven games, they have nothing to be ashamed of, following a phenomenal season, playoff run, and stretch of team-building.
A big part of their success was their head coach Bruce Cassidy, a tone-setter who the Bruins will be discussing a contract extension with during this offseason.
Cassidy led the Bruins to a 49-24-9 record in the regular season, good enough for second place in the entire league, only behind record-setting Tampa Bay Lightning.
Boston then faced off against the Toronto Maple Leafs in the first round of the Stanley Cup Playoffs, where they came back from a 3-2 series deficit to win in Game 7 and advance to battle the Columbus Blue Jackets. They then dispatched Columbus in six games to advance to the Eastern Conference Finals, where they swept the Carolina Hurricanes on their way to the Stanley Cup Final.
Cassidy has been on the Bruins bench since 2016, and took over as the interim head coach following the firing of Claude Julien in 2017. Two months later, the interim tag was removed, and he was named the head coach of the Bruins.
With the B's, Cassidy has a 117-52-22 record in about two and a half seasons as head coach. He has led Boston to the playoffs in every season, getting bounced in the first round in his postseason introduction, then the second round (against Tampa Bay) in his next campaign.
Cassidy has shown that he can lead this Bruins team deep into the spring, and should be rewarded with a pretty secure contract this summer.