Browns' Offensive Swagger is Gone and Freddie Kitchens and Baker Mayfield Need to Find Answers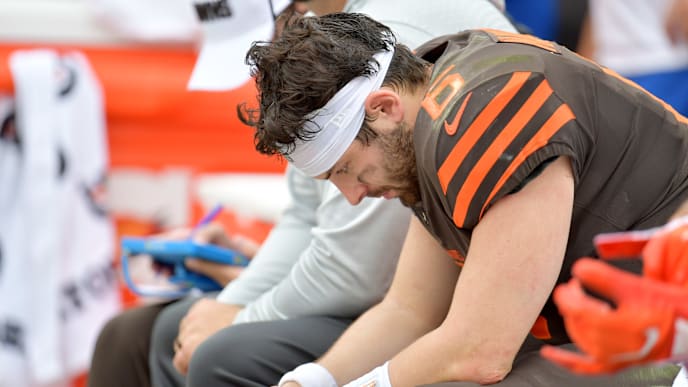 The Cleveland Browns entered the 100th season of the NFL with plenty of hype. Quarterback Baker Mayfield brought hope to the city of Cleveland in his rookie year, and looked to have a better team around him on paper, especially with electric wide receiver Odell Beckham Jr. at his disposal. Add that to an offense with Nick Chubb and Jarvis Landry, and how could the Browns and newly-anointed head coach Freddie Kitchens not succeed?
Well, through the first three weeks of the season, the Browns offense has been far from exciting. Sunday night reinforced everything we'd seen in weeks prior, as the Los Angeles Rams defeated, diluted, and flustered the Browns by a score of 20-13. More importantly, the Rams defense limited the Browns offense to 270 total yards.
Accumulating less than 300 yards of offense won't win you games at this level. And considering the vast talent on Cleveland, this is concerning for a team that once had so much swagger under an interim Freddie Kitchens. Now, it's turned to dust. The creativity is missing. The goal-line plays lack confidence. Somehow, all of this is working to mute Baker Mayfield, once a legendary improvisor, and now just a panicked stooge.
While everyone lauded the Browns for acquiring edge rusher Olivier Vernon from the New York Giants, those very people forget what they gave up. That player was stud offensive guard Kevin Zeitler, and his absence speaks volumes.
Mayfield has limited protection and little time to read the field. As a result, the second-year signal caller was sacked three times and forced to throw the Duke out of bounds on more than a handful of occasions due to the constant pressure placed on them by the Wade Phillips-led defense, to which they had no answers.
Overall, Mayfield completed 18-of-36 for just 195 yards, one touchdown and one interception. In three weeks, Mayfield has accumulated 805 passing yards, three touchdowns, and four interceptions on a 56.7 completion percentage, a true far cry from the lofty expectations placed on him. This situation was supposed to be better. With all these weapons, where's the 2018 innovation?
As for Kitchens, his inexperience as a head coach showed once more. His play calls were confusing and curious. Perhaps the most head-scratching of them all was opting to go for a fourth-and-nine play, and calling...a Nick Chubb rush, which netted a grand total of two yards. Can someone maybe pretend Kitchens' newfangled weapons are unavailable? Perhaps that might get him back to his play-calling roots.
Now, the Brown have to face a Baltimore Ravens' offense which has been downright explosive, and their ticked off defense. Cleveland's patchwork DBs held up beautifully on Sunday. Any chance that can happen two weeks in a row?
The Cleveland Browns were the nation's darling to win the AFC North and even make the Super Bowl. But as we absorb this swagger-less offense through the first three weeks of the season, it's time to for those individuals to pump the brakes, and for the Browns to find some answers before it's too late.
It starts at the top, and the front.