Browns Offense is off to a Terrible Start After Their Offseason of Trash Talk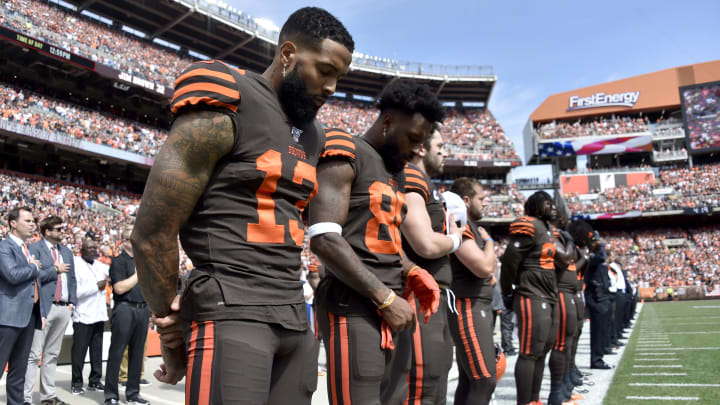 When the Cleveland Browns acquired Odell Beckham Jr. from the Giants, most skeptics, pundits, and fans alike just presumed that The Land's offense would morph into a mind-boggling spectacle.
Baker Mayfield and Co. subsequently responded to the offseason hype by partaking in what became a never-ending barrage of trash talk.
Well, the Browns finally had their chance to back up all of the boasting in their first game of the 2019 season on Sunday against the Titans, a team that experts don't expect much out of this campaign. And what have they done thus far? Lay an absolute egg.
After an imposing first drive, in which Dontrell Hilliard capped off with a four-yard rushing touchdown, Cleveland's offense has gone alarmingly quiet, punting on their next four possessions while failing to establish any sort of rhythm against the Titans defense.
In perhaps perfect ironic fashion, their second-to-last drive of the half ended in a Mayfield sack-safety to extend Tennessee's lead to 12-6. Heading into halftime, the Browns have racked up just 157 yards of offense, averaging a measly 5.6 yards per play.
Did we mention the game is at FirstEnergy Stadium?
The Dawg Pound faithful had better hope their squad responds with a banger in the second half. If not, their team will be subject to a profound dose of criticism.