Brittany Brees Responds to Controversy Over Husband's Remarks in Emotional IG Post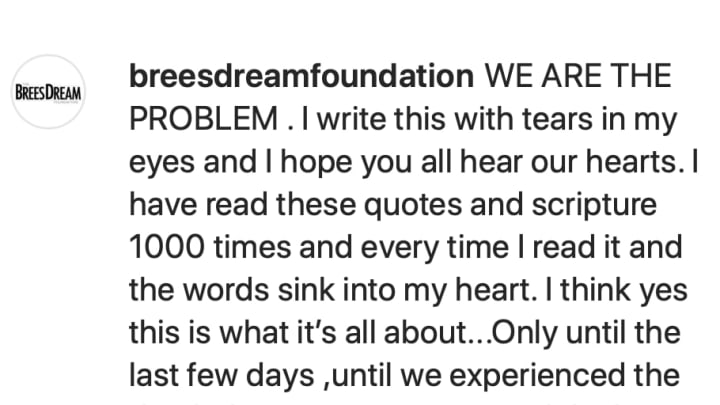 New Orleans Saints quarterback Drew Brees has had himself a rollercoaster week. At a time in which so much of the nation is rallying around the cause of racial equality, he caught criticism for stating that athletes kneeling during the national anthem for any reason disrespects the American flag. The signal-caller delivered two different apologies a day later, and even rejected President Donald Trump's ostensibly supportive statement in regards to insisting all players stand for the anthem.
On Saturday, Brees' wife, Brittany, shared an emotional Instagram post on the Brees Dream Foundation's official account to speak on the controversy the family has faced these past few days.
Brittany Brees mentions the couple had received death threats and hateful messages after the quarterback's initial comments. It wasn't until after Brees made the anti-kneeling statement until she realized they weren't voicing sufficient sensitivity toward the plight of African Americans due to systemic oppression and police brutality.
She says that this is part of the problem that white America has to face. They can say they're not prejudiced against other races, but it's the fact they weren't listening to the reasons why NFL players and other individuals were taking a knee during the anthem. Additionally, they weren't actively looking for cases of racial injustice, and instead chose to sit in silence because they themselves "checked the boxes" of not being a racist.
Brittany concludes by stating she and her husband will be better. They'll listen and educate themselves on racial inequality and police brutality, and will fight alongside the black community to ensure they receive basic human rights.
The Brees family is taking a step in the right direction, but their true test is to let their actions speak louder than their words.