Brian Snitker May Have Saved the Braves' Season With Mid-May Lineup Shuffle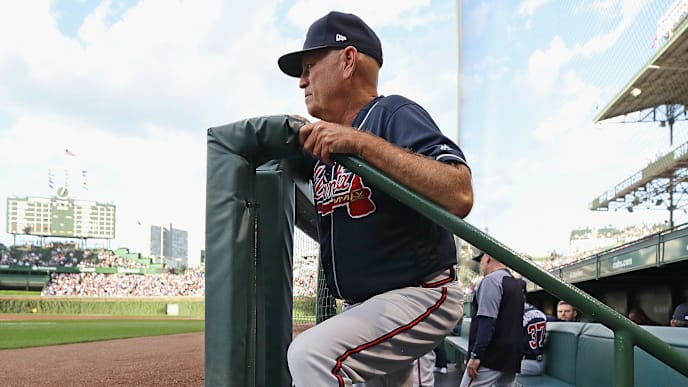 The Atlanta Braves entered their Friday matchup on the road against the Arizona Diamondbacks with an 18-20 record, leading to manager Brian Snitker shaking up the lineup with Ronald Acuña Jr. moving to the leadoff spot, Josh Donaldson hitting cleanup and Dansby Swanson batting second.
It worked that night, as the Braves came away with a 2-1 victory, including an eighth-inning home run off the bat of Acuna.
Snitker has been rolling out practically the same batting order for over two months now and the Braves are sitting pretty, as they've gone an MLB-best 40-17 since the lineup change and are currently leading the NL East by 7.5 games over the Washington Nationals.
Yes, they've received more consistent work from their relief corps to go along with an average rotation, but the true reason the Braves look like one of the best teams in the NL is because of this offense, which didn't catch fire until Snitker moved some players around.
Among all MLB teams, the Braves rank sixth in runs (511), eighth in home runs (150) and sixth in OPS (.797). Imagine where they'd rank if this lineup change happened sooner?
I'm sure the batting order before May 10 would've figured some things out, but when you watch this offense on a nightly basis, you could argue they are one of the deepest lineups in the sport. There's no place for an opposing pitcher to find outs, and when the game gets late, they have shown the ability to string runs together or go deep to cut closer or take the lead.
Plenty of people thought Acuña should've hit in the leadoff spot from Day 1 of the season, but you could understand Snitker's rationale behind the decision. But who would've thought Swanson would have this kind of year?
Now Donaldson is getting hot and you can't say enough about what rookie Austin Riley did for this offense when he first got the call. Oh, and the one constant has been Freddie Freeman, who is once again in the MVP discussion.
Maybe Snitker should've rolled this out on Opening Day, but give him credit for realizing a change needed to be made. He did it, and now the club is benefiting greatly, making themselves a legit contender in the NL.