Brandon Ingram Looked So Bummed To Be Joining the Pelicans at Intro Press Conference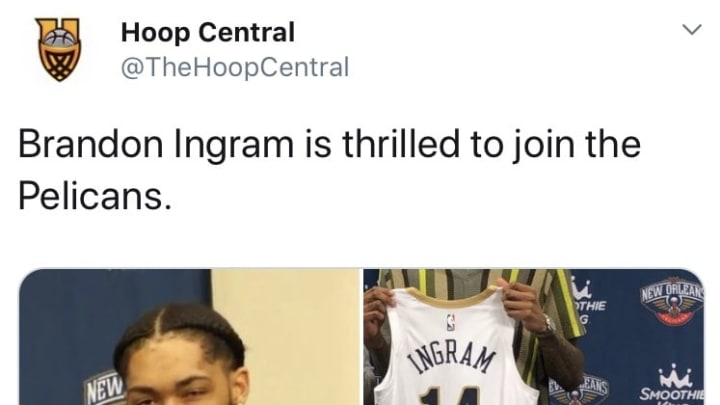 Once the blockbuster trade that sent New Orleans Pelicans All-Star Anthony Davis to the Los Angeles Lakers was solidified, it appeared that both the Lakers and Pelicans made out well, as the Pelicans received a trio of youngsters with Lonzo Ball, Brandon Ingram and Josh Hart along with a handful of draft picks.
But, it doesn't seem that Brandon Ingram is too happy about joining the Pelicans. At his introductory press conference on Tuesday, Ingram looked visibly distraught and appeared to be completely tuned out of what was going on.
Not even a sliver of a smile there from Ingram. Can you really blame him though?
After being drafted by LA, it looked like the team was going to continue building through the draft with Ingram leading the way. But of course, once LeBron James came to town, that entire plan was scratched and now Ingram has been pushed into another rebuild in New Orleans.
But hey, it could always be worse. At least he's still playing in the NBA, which is a privilege in itself.
Maybe the change of scenery will be good for Ingram. He's shown flashes of his All-Star potential during his career, so we'll have to see if he can put it all together now that he's out of LeBron's shadow.