Brand New Royals Owner in Small Market Taking Care of Minor-Leaguers Means Rest of MLB Has No Excuse
By Nick Porr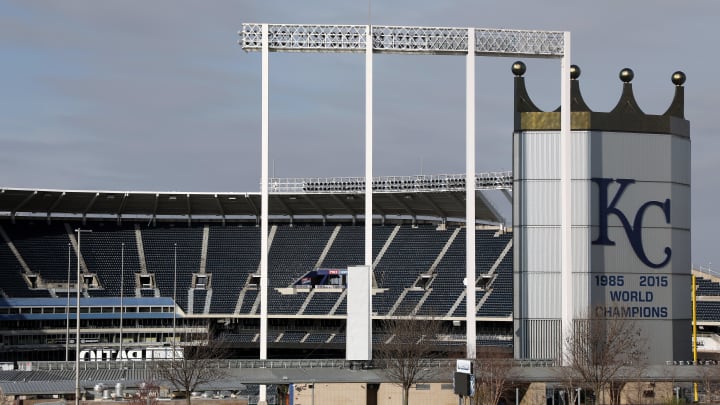 Kauffman Stadium, home of the Kansas City Royals / Jamie Squire/Getty Images
Major League Baseball is still on hiatus due to the coronavirus pandemic, and, in many ways, their minor-league affiliates are being hit hardest. The growing consensus is that the MiLB will likely cancel its season no matter what, putting thousands of jobs at risk.
Teams across MLB have been announcing the rampant release of minor leaguers, but the Kansas City Royals have moved in the opposite direction. The Royals are one of the league's smallest-market teams, yet on Friday afternoon, news broke that they will not be releasing any minor league players, nor will they be forgoing their stipend.
The Royals are one of MLB's lowest-valued teams. Despite ranking second-lowest in value in the league, according to Forbes, the Royals have found a way to pay their minor leaguers when other teams have not.
Also, it's important to note the Royals are under new management. Led by CEO John Sherman, the Royals were purchased by a new group that began their control of the team in November. This is a front office that just made the huge purchase of an MLB team, with very few previous capital gains to fall back on, and they still found money to support their minor league players.
According to the same Forbes report, the Royals are worth just short of half of what the New York Mets are worth. The Mets, despite their wealth, already moved to cut 39 minor leaguers on Thursday.
If the Kansas City Royals' brand new ownership group could afford to pay their minor leaguers, there's simply no reason that wealthier teams like the New York Mets couldn't, too. Owners need to step up and support their players during the pandemic, because if they won't, who will?
David Price doesn't play for every team, after all.