Blues Winning Game 6 at Home Would Completely Make up for Devastating Stanley Cup Woes of the Past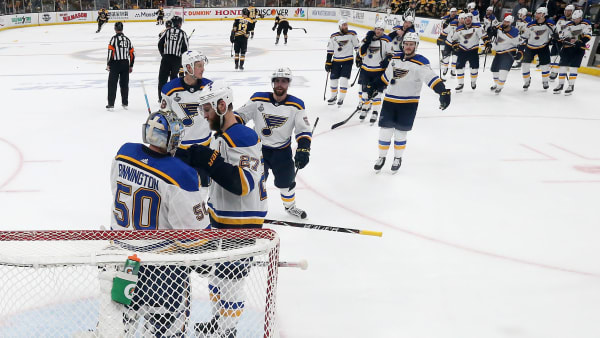 The old saying that "winning cures everything" is alive and well in this year's Stanley Cup Final matchup between the St. Louis Blues and the Boston Bruins. The Blues won their first-ever home Stanley Cup Finals game in Game 4, the city went absolutely crazy, and the series got turned on its head. After subsequently stealing Game 5 in Boston, the Blues are suddenly on the brink of glory.
The last time the NHL saw these two teams meet in the finals was in 1970, when Bobby Orr scored one of the most memorable goals in NHL history to complete a sweep and crown the Bruins Stanley Cup champs. That year was also the last time the Blues reached the Final, the last of three straight trips that ultimately saw them go an unspeakable 0-12 overall. But a Stanley Cup title could erase all of those bad memories for the city of St. Louis.
And it they could be crowned tonight in front of their adoring local fans.
If the Blues were to close out the Stanley Cup Final on home ice, the city will instantly forget about all of their postseason struggles throughout their existence. They may even forget about their 49-year Stanley Cup Final drought. That's no small feat.
If the Bruins were to snatch Game 6 on the road but the Blues win Game 7 at TD Garden, the story is still sweet. But there's something about a rocking-like-never-before Enterprise Center -- like we saw Sunday night for Game 4 -- and the roof may blow off if the final buzzer sounds with St. Louis being the Stanley Cup champions at long last.
The Blues pulled within one win from lifting Lord Stanley's Cup for the first time ever with a gutsy 2-1 victory in Boston in Game 5, with Jordan Binnington stopping 38 out of the 39 shots he faced. Ryan O'Reilly added a goal and an assist for St. Louis to take a 3-2 lead in the series.
One thing is for sure, if the Blues were to emerge victorious in Game 6 in St. Louis, Gloria will be playing all throughout the city all summer long.