Big Baller Brand Appears to Be Selling Gear at Extreme Discount at California Volleyball Tournaments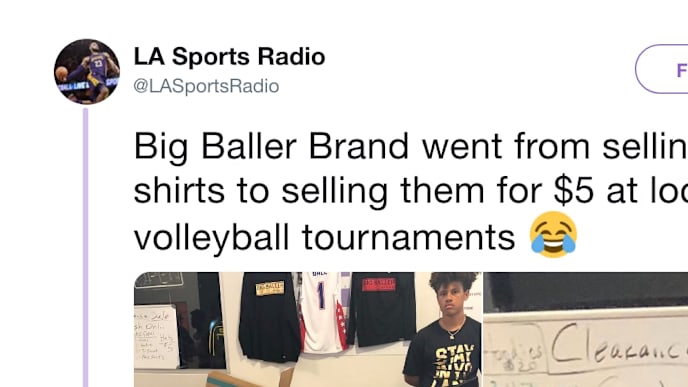 It seems as though the Big Baller Brand is in liquidation mode.
The Ball family apparel company is now selling gear at ridiculously discounted prices at California volleyball tournaments. Shirts that were once $50 are now selling for five bucks a pop.
The fire sale is likely in response to the fact that the Big Baller Brand star Lonzo Ball is headed to the New Orleans Pelicans as part of the package to bring Anthony Davis to the Lakers.
The fact that the apparel is now selling for such low prices is laughable. The money-grabbing machine was once charging thousands of dollars for various items like basketball shoes. They even charged a ridiculously high fee just to film LaMelo Ball's high school basketball games.
Seriously, they even tried selling water. They've done anything and everything to make a quick buck.
Now they're just trying to pawn off whatever they can now that their sole athlete was used as a trade chip for a superstar.
There's been plenty of drama surrounding the brand too. Lozno Ball sued the co-founder Alan Foster, their website has been down for quite some time, and Lonzo Ball actually got his Big Baller Brand tattoo covered up while hinting that he might abandon it entirely.
It's been a massive collapse, and it's not unexpected that they're trying to get rid of the merchandise in such a shameless fashion.