Baron Davis Has Powerful Response to Jay Williams' Assertion That NBA Needs to Come Back Soon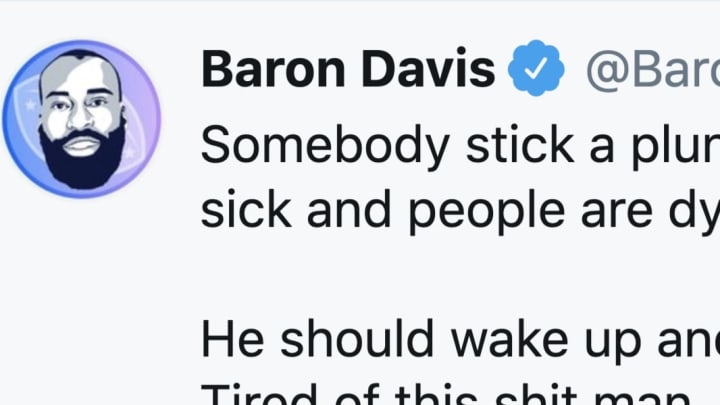 The coronavirus pandemic has shut down the NBA for two whole weeks now, and players, fans and analysts alike are starting to get a little antsy without a full slate of games to cover.
ESPN NBA analyst Jay Williams made the baffling decision to promote the idea that NBA action return, even with no fans in attendance. This caught the ire of former NBA star and current TNT analyst Baron Davis, who lashed out at Williams for a ridiculous opinion that goes completely against the grain.
Davis, best known for his stints with the Hornets, Warriors and Clippers, knows that rushing sports back, even when there are no fans in attendance, is only going to expose more people, and potentially a few NBA players to this virus.
We'll get past this virus when we get past it, and any attempt to accelerate that timeline could actually do more harm than good. Williams, normally a smart and interesting analyst, has to realize that.
Everyone is in agreement that March without basketball stinks, but trying to rush the league back could jeopardize the health of the public. Staying at home and flattening the curve until the league comes back is the only way that the NBA can return as soon as possible.