Auburn vs Oregon Season Opener Announced for Primetime Slot on ABC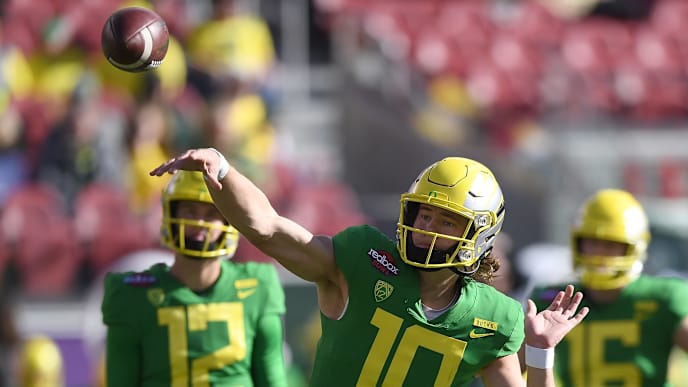 It's been a long few months, but college football is now only a summer away. And on Wednesday, ESPN made things a little more real in announcing the first three weeks of primetime games that will be nationally broadcast on ABC, with the Auburn Tigers versus the Oregon Ducks kicking off the season on August 31st at AT&T Stadium in Arlington, Texas.
Just one week later, don't miss the LSU Tigers take on the Texas Longhorns. On September 14th, fans will be treated to Trevor Lawrence and the national champion Clemson Tigers hitting the road to face Syracuse.
Oregon quarterback Justin Herbert will begin his farewell campaign against a team that finish just 8-5 last season, good for fifth in the SEC. It's not known just yet as to which quarterback will start for Auburn -- Joey Gatewood and Bo Nix are battling it out -- but it won't be Gus Malzahn's offense that will be getting the attention all year as much as the defense. A group made up of Derrick Brown, Nick Coe and Marlon Davidson lead an incredibly strong unit, and present an immediate tough test for Herbert out of the gate.
This matchup is going to feature arguably the best offensive and defensive lines in the country in the first meeting between the two teams since the 2011 BCS National Championship game, which Auburn won 22-19. Overall, Oregon is just 5-7 all-time against SEC teams.
In a draft class that will feature names like Tua Tagovailoa, Jacob Eason and Jake Fromm, college games like these could really make or break a player like Justin Herbert's draft stock. He's going to have to be terrific from the jump if he hopes to be one of the very first picks off the board in the 2020 NFL draft.