Anthony Davis Needs to Stop Complaining and Get Ready to Play Some Center
By Michael Luciano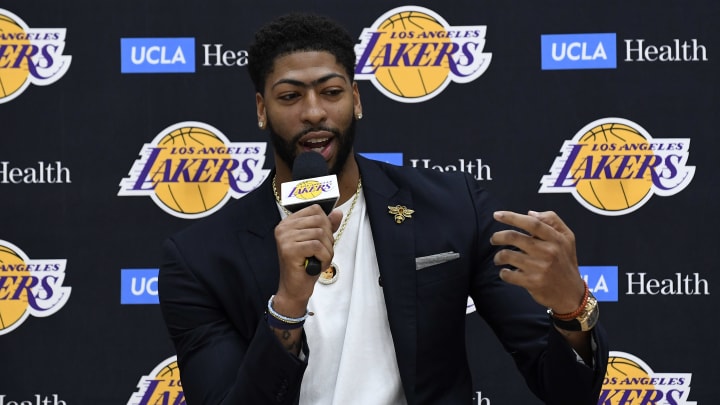 Los Angeles Lakers Introduce Anthony Davis / Kevork Djansezian/Getty Images
Brand new Los Angeles Laker Anthony Davis hasn't even been in Hollywood for a week and he's already putting demands on head coach Frank Vogel.
While he did say that he would play center if Vogel needed him to, Davis made it perfectly clear that he prefers to play the power forward position rather than center.
This seems like a situation not unlike Manny Machado's third base/shortstop dilemma. Despite their wishes to play one position, the stats show they're actually better at the other.
While he was a power forward most of the time in New Orleans, Davis averaged 30.6 points, 11.7 rebounds, 3.1 blocks, and 2.1 steals at center when DeMarcus Cousins went down with his Achilles injury, and continued to play at an elite level when they took down the Portland Trail Blazers in the playoffs. With Davis as the center, the Pelicans' defensive rating in 2018 jumped from 22nd to fourth.
If we've learned anything from Vogel's tenure with Indiana and in Orlando, it's that he values shot blocking and rim protection. Hell, he made Roy Hibbert into an All-Star. With Davis's lateral mobility and athleticism, he's a perfect center for a Frank Vogel team.
While a lineup that features LeBron James, AD, and Cousins on the floor at the same time is going to do some damage no matter what, that lineup could be even more deadly if Davis accepts his role as a center.