Andrew McCutchen Posts Inspirational Tweet After ACL Tear Diagnosis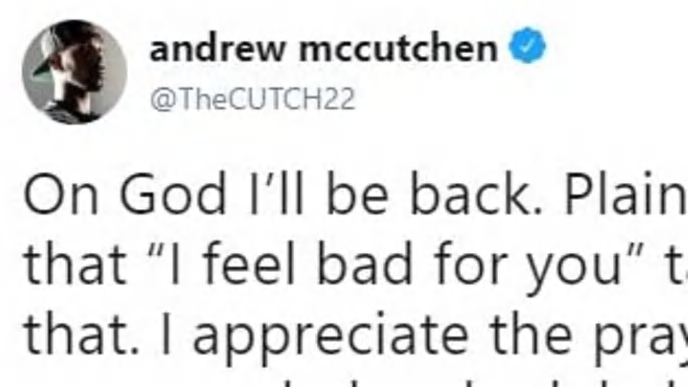 During Monday's game against the San Diego Padres, Philadelphia Phillies outfielder Andrew McCutchen left the game after sustaining an knee injury. It didn't look good initially and the diagnosis was even worse, as he'll miss the remainder of the season with a torn ACL.
As you can imagine, McCutchen received plenty of tweets and messages that read "thoughts and prayers," and while the former MVP is appreciative of that, he's not looking for sympathy of any kind.
He's already focused on his recovery.
Even in one of the worst moments of his career, McCutchen was able to add a comedic line at the end of a very serious tweet. Well done, Cutch.
This is a tough break for McCutchen and the Phillies. He's been the most consistent player on Philadelphia, and in 59 games he slashed .256/.378/.457 with 10 home runs and a league-leading 43 walks. Having already lost a step in the outfield, McCutchen's rehab and success after the fact will have a major impact on his longevity.