6 Times Skip Bayless Was Completely and Irrefutably Wrong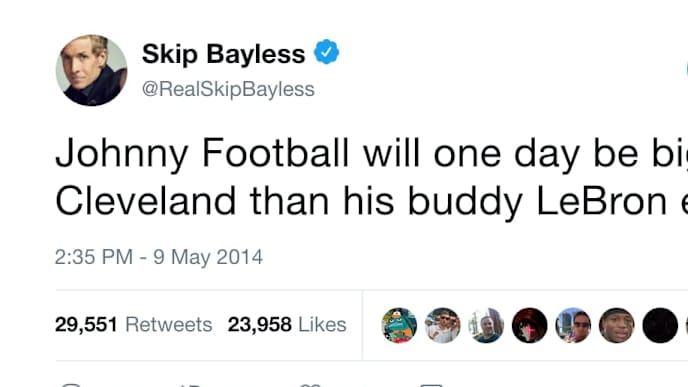 You only need to watch 10 minutes of Skip Bayless to know how extremely biased and narrow-minded the FS1 personality is when it comes to certain players -- Tom Brady, LeBron James, Aaron Rodgers, and Kawhi Leonard to name a few.
Where Bayless is also wildly erratic, however, is his cringeworthy hot takes that often are immensely imprecise. With that in mind, let's examine a few moments where Skip made a fool of himself on social media.
6.

Claiming Atlanta Falcons as the 2017 Super Bowl Champs
He said what now? To Skip's credit virtually everybody in America thought THAT game was over. What makes it incredibly embarrassing is that Bayless has virtually never publicly expressed doubt in Tom Brady and the Patriots. Of all the teams to make him eat crow, it's his beloved New England club.
5.

When he proclaimed Brandon Weeden and Trent Richardson as the future of the Browns.
Never forget when Skip proclaimed that Brandon Weeden would have six to seven solid years as a starting quarterback for the Browns. On top of that he asserted that Weeden and Trent Richardson, who lasted just 37 games in the league, would be a playoff-caliber tandem for the city of Cleveland. If Bayless' timeline was accurate both players would still be manning the QB and RB roles and the Browns would still be the laughingstock of the NFL.
4.

"Give me RGIII over Andrew Luck."
Bayless' mind-boggling assertion that Griffin would be a better quarterback than Luck always seems to make its way onto the Twitter timeline. To put the gaffe into laughable perspective, Luck has thrown 129 more touchdowns (171) than RGII has (42) in their respective careers. Yikes, Skip.
3.

Josh Freeman over Cam Newton
You can't help but break out in tears (laughing, of course) when this Tweet makes its way on your timeline eight years after its inception. Freeman hasn't played in the league since 2015 and has thrown for 81 touchdowns compared to Cam's 182. On top of that, Newton has been named league-MVP, lead the Panthers to a Super Bowl appearance, and been named to three Pro-Bowls. Who do you think has had the better career? Sit down, Skip.
2.

Give me Doug Martin over Adrian Peterson.
Seriously, how is Skip being paid millions to talk about sports? Let's compare the stats, shall we? The Muscle Hamster has totaled 5356 rushing yards and 30 touchdowns in his seven-year career. All Day, on the other hand, has rushed for 13, 318 yards and 104 touchdowns. Not to mention he's been named to seven Pro-Bowls and has won an MVP.
1.

Johnny Manziel over LeBron James in The Land.
If this asinine prediction doesn't perfectly summarize Skip's sheer hatred of LeBron, we don't know what will. Claiming that Manziel, who not only has always prioritized partying over football, but most pundits claimed peaked in college, would have a bigger impact on the city of Cleveland is a fireable offense. Heck, he should be arrested. LBJ is The Land's poster child and will go down as the city's greatest athlete of all-time. Something tell us LeBron returned to the Cavs just to shove this tweet in Skip's face.