6 Smartest 1st-Round Picks in 2019 MLB Draft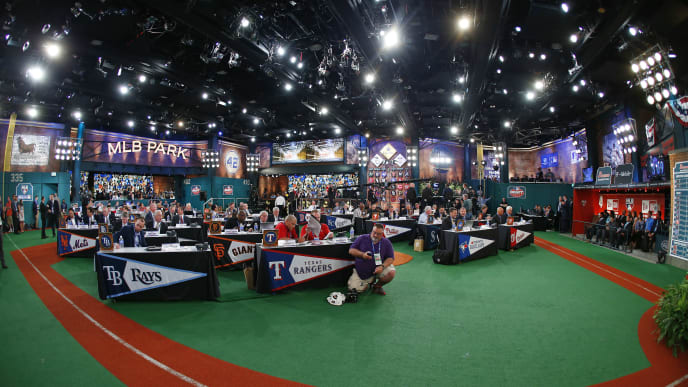 The first day of the MLB Draft has come and gone, and there were a ton of surprises throughout. While some teams had a questionable first round, others drafted very well, and have secured players who look like future impact players for their respective teams. These are a smattering of the smartest picks in the first round of this year's MLB Draft class.
6.

J.J. Bleday, Miami Marlins
The Marlins played it "safe" on Monday night, and took one of the best college hitters in the class. They could have gone with Riley Greene, who has incredibly enticing tools, but they were much better off selecting the high-impact college outfielder who is more of a sure thing. Bleday hit .354/.468/.747 with 26 homers and 68 runs batted in during the 2019 season's power surge, and is a safe bet to have an impact on the Marlins organization sometime within the next two-to-three years.
5.

Alek Manoah, Toronto Blue Jays
The Toronto Blue Jays walked away Monday night with perhaps the best college pitcher in this year's class. Alek Manoah was a First-Team All-American in his junior year, posting an absurd 2.08 ERA with 144 strikeouts in 108.1 innings. With his strong 6-foot-6, 260 pound frame, and a plus fastball that sits comfortably in the mid-90s, he has a chance to be an absolute force on the mound. Manoah will have to resolve his control issues first, but he'll have plenty of time to do that. The Blue Jays will now have three top-100 starting pitching prospects, with Manoah, Nate Pearson and Eric Pardinho, all the more reason they'll likely deal Marcus Stroman this summer.
4.

Jackson Rutledge, Washington Nationals
The Washington Nationals needed a rotation arm that will be ready as soon as possible to step into the rotation with Max Scherzer, Stephen Strasburg and Patrick Corbin, so this pick made absolute sense. Jackson Rutledge had an insane season at San Jacinto Junior College, posting a 9-2 record with a miniscule 0.87 ERA and 134 strikeouts. Like fellow college arm Alek Manoah, his fastball sits comfortably in the mid-90s, but his breaking stuff is better, with a nasty slider and above-average curveball to boot. Rutledge is going to be tough to crack, as his 6-foot-8, 240 pound frame will be highly intimidating. The Nationals are hoping they found a future frontline rotational arm in Rutledge, and it's very possible that they did.
3.

George Kirby, Seattle Mariners
The Seattle Mariners continue to stay consistent with the plan to complete their rebuild within the next two to three years with the pick of George Kirby. The right-hander out of Elon was the best college arm left on the board at 20, so the Mariners went best available, and with Kirby's polish and skills, it was a great choice. In 2019, Rutledge posted an 8-2 record with a 2.75 ERA, but what truly popped is his whopping 107:6 K:BB ratio. His command is the best in the class, and with a fastball that can reach 98 mph, and an above average curveball and slider, he has a great chance at becoming a third starter in a rotation. Should he make it to the majors with the Mariners, he'll likely join a rotation made up of Yusei Kikuchi, Justin Dunn, Marco Gonzales, and Justus Sheffield. If the Mariners weren't a team to watch before, they certainly are now.
2.

Andrew Vaughn, Chicago White Sox
The Chicago White Sox had a chance at taking one of the most athletic up the middle players in the draft in CJ Abrams, but decided to go with first baseman Andrew Vaughn, which was incredibly smart. With Jose Abreu set to become a free agent in the offseason, and Yonder Alonso a free agent the year after, the White Sox have set themselves up to have a fantastic first base prospect up in the majors in two years, completing the rebuild with a bow on top. Vaughn is widely heralded as the best hitter in the class, with a 60 grade hit and power tool according to MLB.com. In 2019, Vaughn hit .381 with 15 homers and 50 runs batted in, showing just a glimpse of how fantastic he could be. The White Sox were smart to address their first base situation rather than selecting another middle infielder when they're already set in that area. Vaughn has the potential to be one of the best first basemen in baseball in just a few short years, so this was a great pick, in theory.
1.

Adley Rutschman, Baltimore Orioles
First pick, nailed it. Did you not expect Adley Rutschman to be here at the top spot? The catcher position is such a premium in today's game, as one could argue that there are perhaps five premiere (or even competent!) catchers in the league. With Rutschman, the Baltimore Orioles have a chance at securing their own premiere backstop. In 2019, Rutschman hit .411 with 17 homers and 58 runs batted in, and had an absurd .575 OBP, showing how much of a force he is at the plate (the college world is terrified of him). He's also outstanding behind the plate, with fantastic hands and a strong throwing arm. He has all of the leadership skills that a catcher should have, and is a great building block for the Orioles. Baltimore got themselves an incredible talent, and hopefully he'll be able to make a difference on the way baseball is viewed in Maryland.