5 Teams That Should Steal Minkah Fitzpatrick From the Dolphins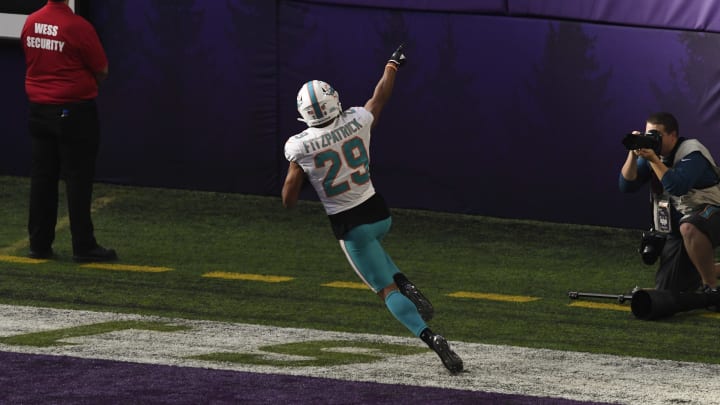 After a horrendous 59-10 loss to the Baltimore Ravens and more incoming disaster than you can shake a cubano at, the Miami Dolphins are facing a complete mutiny which is threatening to end their season before it even really begins. In this instance, the Dolphins are allowing former first-round safety Minkah Fitzpatrick to explore trade options out of Miami. He was selected...last year. What a mess.
With this in mind, here are five teams that should steal Minkah Fitzpatrick from the Dolphins.
Philadelphia Eagles
If the Eagles trade for Fitzpatrick, they'll probably jump past the Saints and Rams to having the third-highest Super Bowl championship odds, behind the Patriots and Chiefs. Fitzpatrick, who can play any defensive back position, would bolster the Eagles' secondary, which ranked in the bottom half of NFL teams last year. This sort of trade has major championship implications for the Eagles.
New York Jets
Before you laugh at the prospect of Fitzpatrick going to the Jets, just imagine him lining up next to Jamal Adams and Marcus Maye in the secondary. That's scary. Not only that, but Fitzpatrick (a Jersey native) would heavily upgrade the cornerback position for the Jets, who have needed a whole lot of help there.
Green Bay Packers
After drafting Darnell Savage in the first round of the 2019 NFL Draft, the Packers looked all set in their secondary. However, being able to potentially pair up Fitzpatrick with the likes of Adrian Amos and Tramon Williams will have Packers' fans drooling all over. This could be the second coming of Seattle's famous Legion of Boom.
Pittsburgh Steelers
No, Fitzpatrick wouldn't have been able to singlehandedly save the Steelers from being trounced 33-3 by the Patriots, but he would give the Steelers a true playmaker in the secondary á la Troy Polamalu. The Steelers secondary badly needs some stability after starting the year off being torched by Tom Brady, and Fitzpatrick could fill that role well.
Kansas City Chiefs
At this point in his career, Andy Reid should be all in. He knows that this season is his best chance at a Super Bowl, and he knows that his offense needs to be stellar to compensate for the Chiefs' pathetic defense. Why not ease the pressure and trade for Fitzpatrick? He would immediately line up next to Tyrann Mathieu and give a boost to the Chiefs' porous secondary. Make the move, Andy.
That's got to satisfy Steve Spagnuolo.