LeBron's first season in LA has not gone as planned, and it doesn't look like it's going to get any better. Fans had hoped for better management once Magic Johnson left the team, but that hasn't been the case so far. If the Lakers' disaster continues to spiral, James won't be happy wasting his last legs on a mediocre team. Here are five possible deals to help get LeBron back into the spotlight. *Please note these deals are meant to reflect contracts/financials matching up. Draft picks would obviously have to be included in these deals.*
5. The Spurs Get Back into Contention Gregg Popovich has committed to the Spurs for three more years, but the current roster he holds remains a fringe playoff team. Without Kawhi Leonard, the team lacks a star to lead the way. While it may be tough, shipping out DeMar DeRozan with some assets is needed to land another star in LeBron James. Although it would be at the end of their careers, James teaming up with Pop would create one of the greatest player-coach pairings the NBA has ever seen.
4. Jokic and LeBron's Passing Frenzy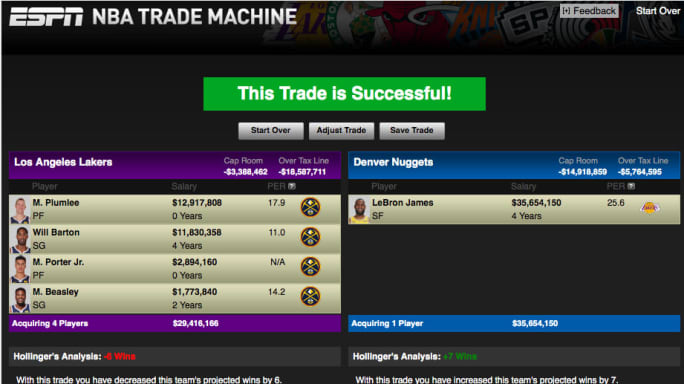 The Denver Nuggets had a major breakout season, claiming the No. 2 seed during the regular season. However, their playoff hopes were cut short with a Game 7 loss to the Trail Blazers in the second round of the playoffs. With this trade, they'll send away some assets in Malik Beasley and Michael Porter Jr. to team LeBron up with Jokic. James and Jokic surrounded by shooters? It doesn't get much better than that.
3. LeBron and Kyrie Reunite in Boston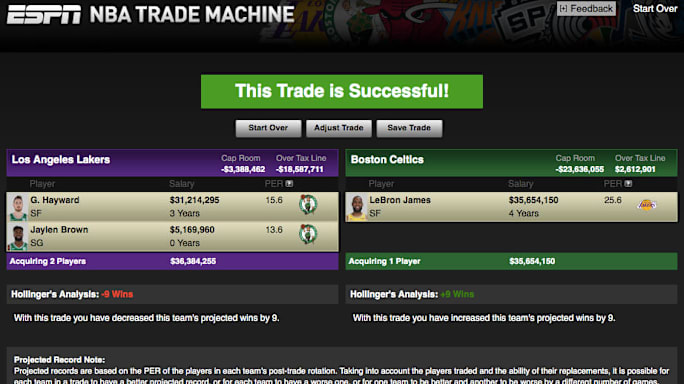 There's much talk of a Kyrie-LeBron reunion on the Lakers, but perhaps the duo can pair up with a much more stable front office. The Celtics have plenty of draft picks to tack on if needed. They won't be losing too much of the talented core they already have and will add James to the mix. It'll also get LeBron back to the East, which he has dominated for the past decade.
2. Houston's Shakeup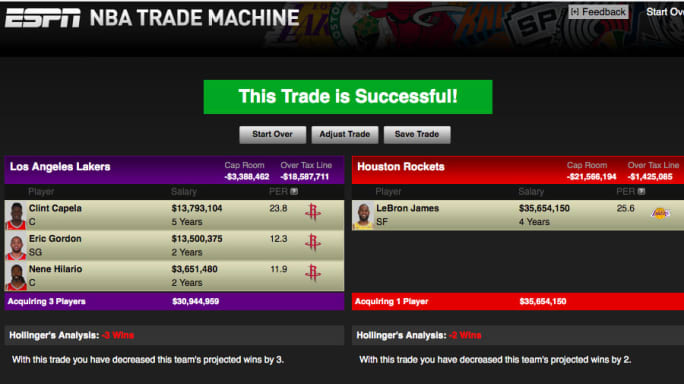 The Houston Rockets once again choked away their best shot at a title, losing to the Durant-less Warriors in Games 5 and 6. With this trade, they'll team up LeBron with Harden and Paul for an all-in effort. They'll need to throw in more first-round picks as assets, but they have the players to make it work.
1. Blockbuster With Philly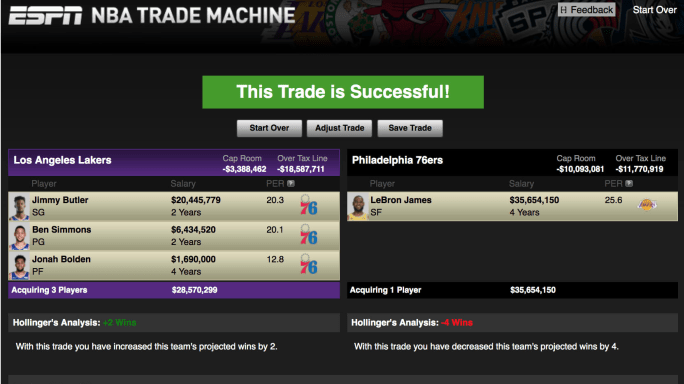 We had to toss Butler in there because the trade machine isn't accounting for the fact he's going to opt out and his salary is still counting against the 76ers' cap, but just imagine Simmons and Bolden heading to LA in exchange for James. We heard the rumors regarding a LeBron-Simmons swap, so here you have it.