5 Biggest Surprises of the NHL Season Thus Far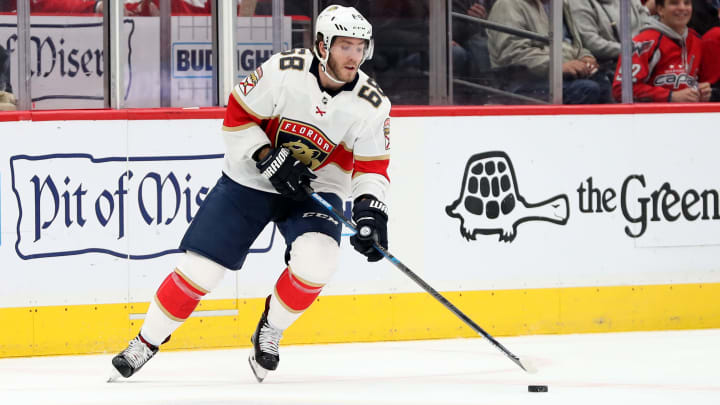 The Stanley Cup Playoffs are the least predictable and toughest to win of those of any sport. However, the NHL has proven that even the regular season can amaze its fans through these five unexpected moments this season.
5.

Florida Panthers Developing Ahead of Schedule
Though expectations were reasonably high after the Panthers hired Joel Quenneville, the team has shot out of the gate with 29 points in 25 games, the second-best record in the Atlantic Division. Despite a below-par start from Sergei Bobrovsky, Jonathan Huberdeau and Aleksander Barkov's outstanding performances as well as their tremendous depth have more than made up for questionable goaltending.
4.

Edmonton Oilers Return to Form
The Oilers looked destined to reclaim their former glory in the 2017 Stanley Cup Playoffs before blowing a 3-0 lead in Game 5 against the Anaheim Ducks. After two disappointing seasons since then, the Oilers have jumped out to the Pacific Division lead now that they have the defensive consistency to support Connor McDavid and Leon Draisaitl.
3.

The Arizona Coyotes in Playoff Position With League's Best GAA
Arizona is just two points behind Edmonton after seven straight seasons without reaching the playoffs. Their 86-point campaign last year was surprising enough, but they have shocked many with four very balanced lines and an active defensive unit. Darcy Kuemper has played to an excellent 2.03 GAA and combined with backup Antti Raanta for the league's best mark.
2.

Tristan Jarry Outplaying Matt Murray
Murray has played 11 more games, but it's definitely quality over quantity considering Jarry's GAA is a mere 2.01, compared to Murray's surprising 2.72. Also, Murray's save percentage is just .901, while Jarry's is .938. Jarry's stats are the best among qualifying goaltenders this season.
1.

Robin Lehner and Islanders Both Playing Well Without Each Other
Lehner's return to the NHL and glory with the Islanders while battling mental health issues and drug addiction was inspirational, so it seemed a little odd when he signed with the Chicago Blackhawks after winning the Vezina Trophy. It led many to wonder whether he was a product of the Islanders' system or vice versa. Yet, the Islanders are a top-five team in the NHL with 34 points, and Lehner is second in save percentage and in the top-10 in GAA.