4 MLB Superstars Who Will Be Traded Next After Blockbuster Mookie Betts Deal
By Karl Rasmussen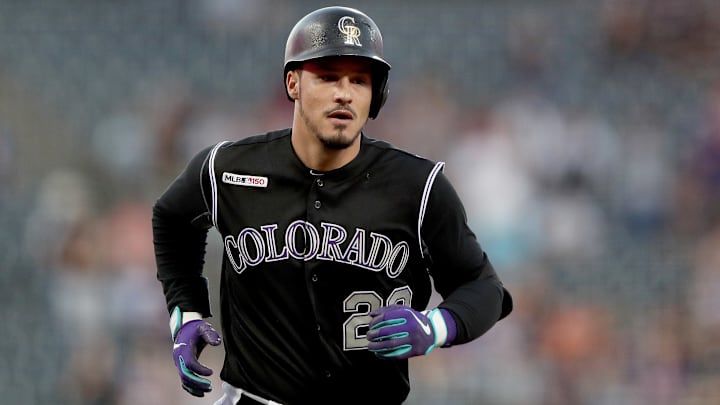 Colorado Rockies 3B Nolan Arenado / Matthew Stockman/Getty Images
This MLB offseason has featured a plethora of rumors regarding potential trades involving superstar talents, and after months of will they-won't they, the first true blockbuster of a deal went down on Tuesday evening: a three-team swap which saw Mookie Betts dealt to the Los Angeles Dodgers.
Following that parity-shifting trade, GMs around the league may be more inclined to conduct some business of their own in order to remain competitive. That said, these four superstars, who have been linked with trades away from their current club, could be the next guys dealt ahead of the 2020 campaign.
4.

Francisco Lindor
Cleveland Indians SS Francisco Lindor / Jason Miller/Getty Images
The trade talks for Francisco Lindor seem go back and forth virtually every day. While his latest comments suggest he's open to sticking around in Cleveland, he also admitted he's yet to receive a substantial offer from the team. If the Indians ultimately prove unwilling to pay up on a long-term deal, Lindor could be on the move, and there would be plenty of teams keen on bringing aboard the star shortstop.
3.

Kris Bryant
Chicago Cubs 3B Kris Bryant / Dylan Buell/Getty Images
The Chicago Cubs have had a quiet offseason, though the rumors have been plentiful. Kris Bryant's has been the subject of trade talks for most of the offseason, and after losing his service time grievance with the organization, he's now under contract for two more seasons, rather than one. That increases the haul the Cubs could get for him in a potential deal, which could make them more willing to negotiate a trade for the 28-year-old.
2.

J.D. Martinez
Boston Red Sox DH JD Martinez / Maddie Meyer/Getty Images
J.D. Martinez opted to remain in Boston in hopes of contending in 2020. Well, following Tuesday's trade, the Red Sox don't seem likely to compete this year, which likely won't sit well with the veteran slugger. He's making $23.75 million this season, but has an opt-out after the year, which could make him a viable rental option for a contending team willing to absorb his salary. At 32, Martinez is seeking another championship, and if he can't get that in Boston, he may be looking for the exit door.
1.

Nolan Arenado
Colorado Rockies 3B Nolan Arenado / Rob Leiter/Getty Images
Nolan Arenado and the Rockies don't appear to be seeing eye to eye of late. Just one year after signing his mega-deal with the team, he could be on his way out of town, scorching ownership in the process. The Rockies and Cardinals were engaged in trade talks for the star third baseman, and while nothing's materialized yet, perhaps the Cards will up the ante in order to keep up with the Dodgers. Having smashed no less than 37 home runs in each of the past five seasons, Arenado could do wonders for a team on the brink of contention.