3 Teams That Need to Go After Bradley Beal This Offseason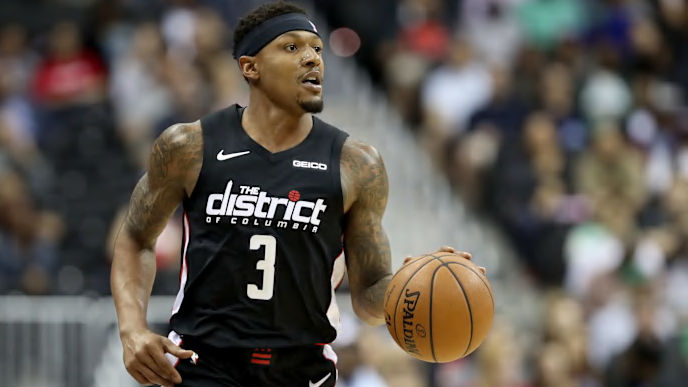 With the NBA Draft coming up and teams trying to figure out possible roster solutions for the 2019 season, it's no surprise that All-Star guard Bradley Beal has been on a lot of teams' minds lately. By averaging over 20 points per game in each of his last three seasons, the aggressive wing has been an essential part of the Washington Wizards' roster and would make a great addition elsewhere across the league. These three teams that need Beal the most going into the 2019-20 season, and should go after him hard.
1.

New Orleans Pelicans
No. 1 on the list is the New Orleans Pelicans. First, they're already verifiably interested in Beal, and it's understandable why. After trading away Anthony Davis to the Lakers, the Pelicans got a lot in return, but what they got will only benefit their future and not necessarily season. The only pieces that can help immediately are Lonzo Ball and perhaps Josh Hart, with Brandon Ingram's health status up in the air. They are expected to pick Zion Williamson with their first pick in the draft, but they will still be missing an essential scoring veteran to help guide the team through the upcoming seasons. Beal is that guy, and the No. 4 overall pick they got from LA could be packaged up to nab him.
2.

New York Knicks
If you look at the Knicks' record or their game tape, it's clear that a whole lot is missing. With Tim Hardaway Jr. out due to injury, a chunk of scoring was eliminated from the backcourt that was never picked back up. The Knicks needed a guard that they can trust to take control and consistently knock down buckets, something that Beal is more than capable of doing. He could be the difference for a Knicks team that runs the risk of striking out if it focus too heavily on the free agent market.
3.

Detroit Pistons
The Pistons need help putting the ball in the basket, period. It's obvious. Veteran shooting guard Wayne Ellington was only able to put up 12 points per game in 2018-19, and young Luke Kennard was not nearly as productive as the Pistons needed him to be. Beal would serve as a scoring guard to help Blake Griffin on the offensive end, as well as a veteran to help aid the development of a Kennard for at least the next two years of his current contract.