3 September Call-Ups Who Can Help Dodgers Clinch the Best Record in Baseball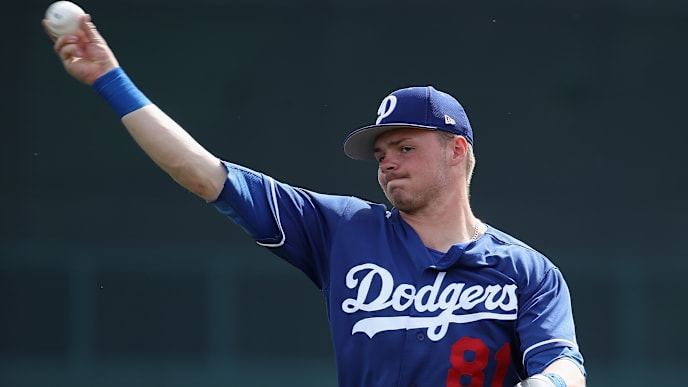 The Los Angeles Dodgers have all but locked up the NL West division, but Dave Roberts' club still has a lot of work to do to fend off the likes of the Yankees and Astros for baseball's best record. After all, whichever team holds that title come season's end will be rewarded with home-field advantage throughout the postseason. Yes, that includes the World Series.
When you compare the Dodgers' home (48-16) and away (31-25) records, it becomes apparent why it's so imperative that they clinch the feat. With that in mind, here are three guys that LA should call up in September to assist their efforts.
3.

Josiah Gray
Folks, giving the lauded right-handed prospect work in the regular season prior to October is exactly what the Dodgers should do. Gray is a starter by trade, but Roberts could absolutely utilize his talents to stabilize his erratic bullpen. Across 114 innings in Single and Double-A, the 21-year-old has recorded an elite 1.97 ERA and 0.90 WHIP to go with a 28.5 strikeout percentage. If that doesn't warrant a call-up, nothing does.
2.

DJ Peters
Stop us if you've heard this before, but the Dodgers have another power-hitting outfielder raking within their minor league ranks. Pets has followed up clubbing 30 and 29 home runs in the previous two seasons with 23 more in 2019. DJ seems destined to deliver late-game pinch hit heroics from September on.
1.

Gavin Lux
It's not a matter of if Lux will be called up to the majors in 2019; it's a matter of when. In 33 games with Triple-A Oklahoma City, the Indian Trail High School product is hitting .450 to go with 10 home runs, and also flaunts a remarkable 1.359 OPS in Triple-A. Lux's promotion is inevitable and he will provide a significant spark in the Dodgers' stacked lineup, but suspect infield.