3 Reasons Raiders 'Hard Knocks' Will be the Wildest Edition Yet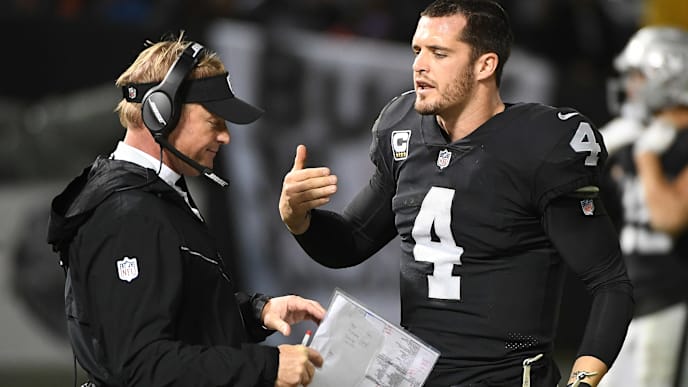 The Oakland Raiders will be this year's team to participate in HBO's 'Hard Knocks', which follows a different NFL team every year throughout training camp in the preseason, giving fans an exclusive behind the scenes look. This will be the Raiders' first time on the show and it will certainly be a treat for us fans. Oakland's made more headlines than just about any team in football in the past year, so selecting them for the show was a no-brainer. Here are 3 reasons why the Raiders will be the show's best edition yet.
1.

A Quartet of Personalities
Antonio Brown's departure from the Pittsburgh Steelers was about as drama-filled as it gets. Mix him with the signings of Vontaze Burfict and Richie Incognito, who have both made headlines of their own during their careers and you're in for some quality entertainment already. Throw in Derek Carr, who's certainly one of the most colorful signal callers in the league, and this series is about to be must-watch TV.
2.

Jon Gruden and Mike Mayock
If you've ever watched a video of mic'd up Jon Gruden, you'll know that he is maybe the most entertaining personality in the NFL today. It goes without saying that he is a headline machine as well. We also know that his relationship with new general manager Mike Mayock has produced some rather bizarre but hilarious stories. Watching the pair interact with the exuberant personalities of their players could lead to some hilarious moments.
3.

New Faces and High Expectations
The Raiders are coming off of a terrible 2018 season, but they certainly have high expectations for a big 2019. With all the new additions that the Raiders have made, the organization certainly believes they are built to win. With three first round picks on the roster, along with former Pro Bowlers like Carr, Brown, Incognito and ex-Bronco Brandon Marshall, it will be very intriguing to see how all of these pieces mesh together. Luckily, the show will provide us with a first look at all that talent the Raiders are so excited about.