3 NBA Teams That Should Sign Tacko Fall Right Away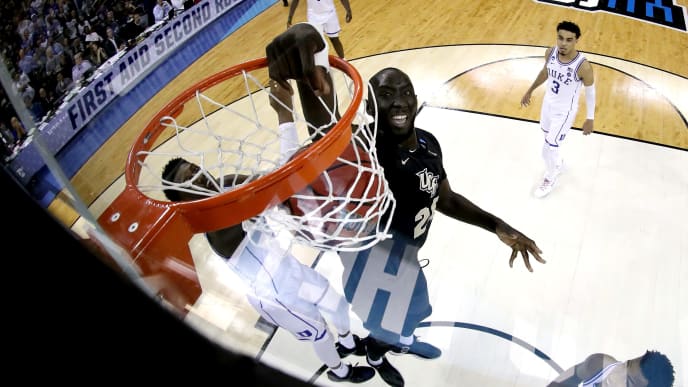 The man looms large over everything, so why wouldn't he overshadow draft night as well? We were all excited for some lucky NBA franchise to use a late-second-rounder on 7-foot-6 behemoth Tacko Fall out of UCF, but nobody bit. We then expected him to be plucked up right away as a UDFA, but still, no dice. So which team's camp will Fall bless? These three still have time to make a move.
3.

New York Knicks
With developmental prospect Mitchell Robinson entering his second year having proved plenty about his rim protecting ability, who wouldn't want to see this monstrous tower join him in an absurd defensive lineup? Of course, the NYK need all the firepower they can get, and were thought to be targeting Fall with pick 55, before they jettisoned it.
2.

Philadelphia 76ers
We watched what havoc Boban Marjanovic was able to wreak in 2018-19 in short stretches; imagine Fall filling the same role eventually, after working on polishing his jumper a bit? Once again, he's got a phenomenal mentor in Joel Embiid, and no team needs a backup center more than these folks, who've run into endless unplayable options.
1.

Portland Trail Blazers
While we all enjoyed the impassioned Blazers' playoff run last year following the devastating injury Jusuf Nurkic suffered, this team can't survive on smoke and Zack Collins forever, especially considering half-year rental Enes Kanter is set to hit free agency. They need punishers down low, and there's no stronger lottery ticket than Fall.