3 Hall of Famers Who Are Just as Controversial as Barry Bonds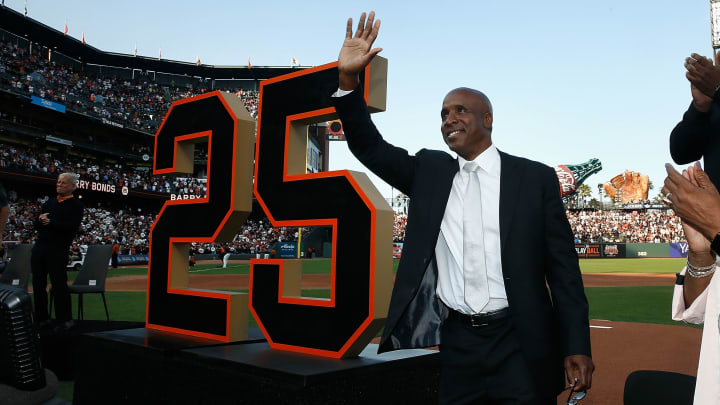 These three Hall of Famers are just as controversial as Barry Bonds. / Lachlan Cunningham/Getty Images
Every single year, baseball purists hold the debate over whether or not Barry Bonds should be inducted into the Baseball Hall of Fame. Even though he holds MLB's home run record, he's forever tied to performance-enhancing drug use rumors, which have technically never been proven as fact. Even without confirmation, many fans want no part of Bonds (and Clemens, and A-Rod...) being enshrined in Cooperstown.
But if you think Bonds would be history's first controversial enshrinee, you're kidding yourself. These three players in the Baseball Hall of Fame had careers that were just as controversial as Bonds' tenure.
3.

Whitey Ford
Whitey Ford has admitted to altering baseballs. / Focus On Sport/Getty Images
That's right, the man known as "The Chairman of the Board" has a bit of a shady history during his 18-year playing career. Yes, he does hold an overall record of 236-106 and a cumulative ERA of 2.75, but that should really come with an asterisk. Why? He would doctor the baseballs he used. Whether that was using his wedding ring to cut up the baseball or loading the ball with mud during the 1963 World Series, Ford did whatever it took to win. And his six World Series championships are proof of that.
2.

Gaylord Perry
Gaylord Perry was the master at doctoring baseballs. / Ron Vesely/Getty Images
When it comes to cheating and oft-rewarded greatness, Gaylord Perry's name is the first in line. As it turns out, Perry puts Ford to shame in terms of doctoring baseballs. He was the master of the spitball, smothered baseballs in Vaseline, and covered balls with rosin, which created a trail of smoke once they careened to home plate (aka the "puff ball'). Perry literally wrote the book on cheating, called "Me and the Spitter". His entire career was built on artificial substances, but it was viewed as clever guile, so he earned induction into Cooperstown in his third year on the ballot.
1.

Ty Cobb
Ty Cobb holds a shady past / Transcendental Graphics/Getty Images
Ty Cobb has the reputation of being Major League Baseball's first major star. Even though he earned tremendous accolades throughout his 14-year career, Cobb has a nasty off-the-field history. The "Georgia Peach" and Tris Speaker were implicated in a game-fixing scheme, where they were alleged to have bet on a 1919 Detroit Tigers-Cleveland Indians game they knew was fixed. Perhaps most staggering was that Cobb was alleged to have had multiple altercations with African Americans in public, including one that led to him being charged with attempted murder. Additionally, Cobb was suspected of being a member of the Ku Klux Klan. Those allegations have been disputed in recent years, and Cobb was said to be welcoming of black players into Major League Baseball, starting with Jackie Robinson. Even so, the controversy surrounding Cobb still remains.