3 Dream Trades the Yankees Can Make This Offseason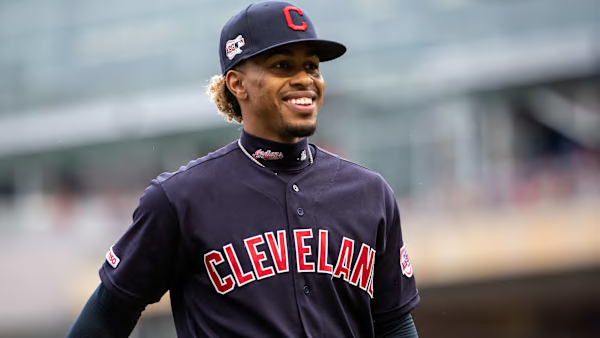 The New York Yankees are predicted to be big players in this winter's free agency sweepstakes, and their early behavior -- flying out to meet with both Gerrit Cole and Stephen Strasburg ahead of the Winter Meetings -- indicates that notion will come to fruition.
What some Bronx buffs might forget, however, is the possibility of Brian Cashman orchestrating a few trades. The Yanks certainly have the assets to include in a potential deal, so let's highlight a few dream trade scenarios that the club can make this offseason.
3.

Trevor Bauer
Does anybody else think that Bauer's personality would fit in swimmingly in the Big Apple? Something tells us that the Reds think they are much closer to contending in the NL Central than they actually are. Though they have bats in place, and will continue to build an attractive young core, they should come to their senses and deal Bauer this winter to really catapult that movement. It would be a win-win scenario for both Cincy and the Yanks, who need starting pitching.
2.

Francisco Lindor
Do we really expect the Cleveland Indians to let Lindor walk for nothing when he becomes a free agent? We certainly hope that their front office is wise enough to deal him to a team with a rich farm system, and the Yankees evidently fill that bill. With Didi Gregorius' future in the Bronx as murky as ever, the Yanks pulling off a trade with the Tribe for one of the best shortstops in the MLB would be a dream get. Just picture Lindor and Gleyber Torres in the middle of New York's infield for the next decade or so.
1.

Mookie Betts
The Red Sox are desperate to get under the luxury tax threshold for 2020 and Betts has, on several occasions, asserted his indifference to finishing his career in Boston. On paper, it's a perfect fit. We get that a trade between the Red Sox and Yankees is a long shot, but we're talking dream trade scenarios here, folks. Boston is looking to get younger and cheaper, while the Yankees are primed for World Series runs now and into the future. Not to mention that New York could use an outfielder with Brett Garnder being a free agent, Aaron Hicks' injury history, and Giancarlo Stanton's unpredictable future with the team.