3 Boston Red Sox Position Battles to Watch for in Spring Training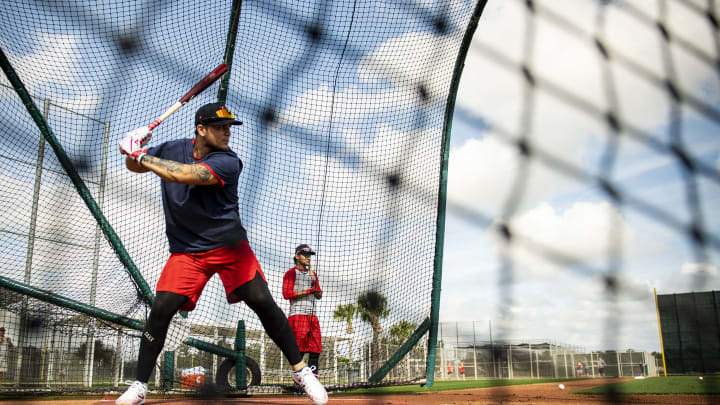 The Mookie Betts trade is officially behind us, meaning it's time to focus on the current, perhaps lacking, 2020 Boston Red Sox. Considering the drama of the last month-plus, Beantown supporters are ready to look forward, and we're here to supply that demand. With Spring Training officially here, it's time to decide exactly how this roster will pan out, including battles in the outfield, at first base and in the back end of Boston's starting rotation.
3.

Outfield Mix
Boston's outfield mix is actually quite deep, especially with the new additions of Alex Verdugo and Kevin Pillar. While it's a good problem to have, this makes for an exciting Spring Training battle between the likes of Verdugo, Pillar, Jackie Bradley Jr. and Andrew Benintendi as to who receives the most playing time and where. One would expect Verdugo to receive a chance to succeed right away, considering his involvement in the Mookie Betts trade. The rest is up to Ron Roenicke, with JD Martinez obviously sliding into the DH spot.
2.

Fifth Starter
Assuming the Sox don't bring in another free agent starter, which is entirely possible, the fifth starter will be filled by one of Tanner Houck, Hector Velazquez, Brian Johnson, or perhaps even Darwinzon Hernandez. Boston's rotation is top-heavy, featuring Chris Sale, Eduardo Rodriguez, Nathan Eovaldi and Martin Perez. Behind those four, however, remains an obvious void, and those competent arms all bring with them injury concerns. Boston could use some sterling depth here.
1.

Right Side of Infield
Veteran Mitch Moreland is the presumed favorite here, but there are two upstart youngsters behind him that could take some playing time away from the 34-year-old. Michael Chavis needs at-bats, plain and simple. Whether that's at first or elsewhere, Boston needs to move Chavis around enough to make him a consistent threat in the lineup. Bobby Dalbec, meanwhile, has proven to be a power threat in the minors, hitting a combined 59 home runs combined in Double-A and Triple-A. Between those two kids, and Jose Peraza, something's gotta give.