3 Bengals One-Hit Wonders We Wish Hadn't Disappeared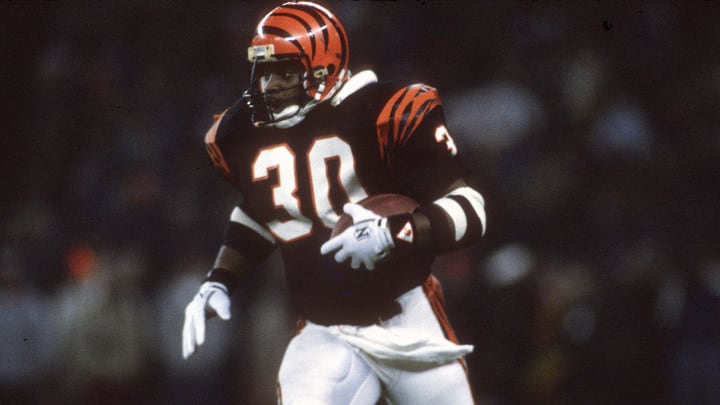 Cincinnati Bengals running back Ickey Woods had a tremendous rookie year before injuries derailed his career. / Focus On Sport/Getty Images
The Cincinnati Bengals have established a reputation as a snake-bitten franchise, with playoff heartbreaks and disappointing seasons plaguing a long-suffering fan base. The team has shown promise at times in the past, with young stars playing prominent roles before ultimately flaming out. While the Bengals hope top pick Joe Burrow will face a different fate, here are Cincinnati's top one-hit wonders.
3.

Jeremy Hill
Jeremy Hill rushed for over 1,000 yards in his rookie year with Cincinnati, but could never replicate his early success. / Andy Lyons/Getty Images
Jeremy Hill was a force to be reckoned with in his rookie year with Cincinnati. The 22-year-old back racked up 1,124 rushing yards and nine touchdowns with a 5.1 yards per carry average in 2014, helping the Bengals reach the playoffs. Hill and Giovani Bernard formed a dynamic tandem, but the former never recaptured his rookie year magic. While he had roughly the same number of carries in his next two seasons, Hill never again surpassed 1,000 yards or 4.0 yards per carry, and was out of the NFL by 2019.
2.

Tyler Eifert
Tyler Eifert has struggled to stay healthy throughout his career, but his 2015 season showed Cincinnati his immense potential. / Andy Lyons/Getty Images
The Bengals selected Tyler Eifert at No. 21 overall in the 2013 NFL Draft as a red zone threat, but the athletic tight end has struggled to stay on the field throughout his seven-year career. However, he established a fantastic rapport with Andy Dalton in 2015, catching 13 touchdowns and helping Cincinnati win 12 games. While 2015 made his potential clear, he is most known for his injury troubles, playing only one healthy season since his breakout year. The Jacksonville Jaguars signed him to a two-year deal in March, and the veteran hopes to revive his career with a new team.
1.

Ickey Woods
Ickey Woods is now mostly famous for his touchdown dance, but the running back's strong rookie season propelled the team to a Super Bowl appearance. / Focus On Sport/Getty Images
While Ickey Woods has seen his touchdown dance, the "Ickey Shuffle," become his lasting legacy, the Bengals running back was a driving force behind the team's Super Bowl appearance in 1988. Woods rushed for 1,066 yards and 15 touchdowns, but tore his ACL early in his second season and never recovered. He was out of the NFL by age 26, and is remembered as one of the league's greatest one-year wonders.