12uppercut Universal Pound for Pound Rankings: Style and Fury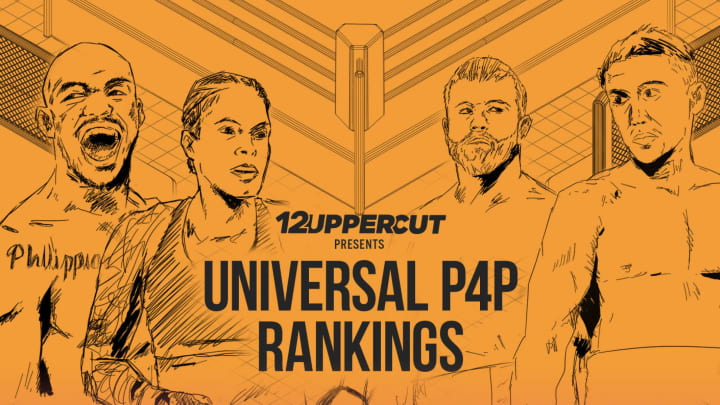 Amanda Nunes and Canelo Alvarez remain atop 12uppercut's unified MMA and boxing P4P list /
We're just 10 weeks into 2020, but the fight landscape already looks a heck of a lot different than it did as we popped all those bottles at year's end. Conor McGregor came back, Tyson Fury achieved heavyweight supremacy, and the UFC champs Jon Jones and Israel Adesanya eked out controversial victories. With that in mind, it's time to roll out a crucial update to 12uppercut's combined boxing and MMA P4P list.
As always, we've split our ranking into three tiers of 10 fighters each. Let's begin with the elite of the elite.
1.

Amanda Nunes: UFC Women's Featherweight and Bantamweight Champ
Amanda Nunes has a UFC women's featherweight title defense scheduled against Felicia Spencer / Steve Marcus/Getty Images
Previous Ranking: 1

The queen stays the queen.

LAST FIGHT: Def. Germaine De Randamie (unanimous decision) on 14 December 2019 at UFC 245
2.

Canelo Alvarez: Unified Middleweight, WBA Super Middleweight, and WBO Light Heavyweight Champ
Canelo Alvarez is the single best all-around boxer on planet earth right now. / Steve Marcus/Getty Images
Previous Ranking: 2

Will Billy Joe Saunders beat ol' Saul on Cinco de Mayo weekend? Well, no. But the trash talk in the buildup is going to be spot-on.

LAST FIGHT: Def. Sergey Kovalev (TKO) on 2 November 2019
3.

Vasyl Lomachenko: Unified Lightweight and WBO Junior Lightweight Champ
Ukraine's Vasiliy Lomachenko remains boxing's king at 135 pounds, but for how much longer? / Richard Heathcote/Getty Images
Previous Ranking: 3

Are we ever going to get a confirmed date and location for a Loma vs. Teofimo Lopez mega-unification fight? Our money's on Madison Square Garden, but even a supposed May 30 target feels a bit too soon at this point.

LAST FIGHT: Def. Luke Campbell (unanimous decision) on 31 August 2019
4.

Terence Crawford: WBO Welterweight Champ
Terence "Bud" Crawford needs a big welterweight pay-per-view fight to help secure his legacy. / Bradley Kanaris/Getty Images
Last Ranking: 5

If an Errol Spence unification bout can't be made due to typical boxing promoter and broadcast politics, fans ought to revolt over another throwaway "stay busy" Top Rank fight for Bud Crawford. Enough is enough. Big fighters need big opponents, period.

LAST FIGHT: Def. Egidijus Kavaliauskas (TKO) on 14 December 2019
5.

Jon Jones: UFC Light Heavyweight Champ

Last Ranking: 4

If you thought Dominick Reyes beat Jon Jones, you're not necessarily wrong. A win is a win, but we're knocking Bones down one spot in the rankings. We're not mad -- we're disappointed.

LAST FIGHT: Def. Dominick Reyes (split decision) on 8 February 2020 at UFC 247
6.

Naoya Inoue: Unified Bantamweight Champ
Japan's Naoya Inoue is one of the premier knockout artists in boxing today. / Etsuo Hara/Getty Images
Last Ranking: 6

It's possible that no man can stop "The Monster." Unfortunately for Naoya Inoue, concerns over coronavirus could put a damper on his rampage through the bantamweight ranks.

LAST FIGHT: Def. Nonito Donaire (unanimous decision) on 7 November 2019
7.

Khabib Nurmagomedov: UFC Lightweight Champ
Last Ranking: 7

If Khabib vs. Tony Ferguson doesn't happen in April, the UFC should disband. Mixed martial arts as a sport should end forever. The very concept of a human punching and/or kicking another human being will be lifeless charade on par with "True Detective" season two.

LAST FIGHT: Def. Dustin Poirier (submission) on 7 September 2019 at UFC 242
8.

Errol Spence Jr.: Unified Welterweight Champ
Errol Spence's next fight could give him more ammo to claim global supremacy in boxing's welterweight division / Jayne Kamin-Oncea/Getty Images
Last Ranking: 8

Despite that horrific car accident last fall, Errol Spence is miraculously back. But please, nobody wants to see Mikey Garcia get a rematch. That was so one-sided that it wasn't even fun.

LAST FIGHT: Def. Shawn Porter (split decision) on 28 September 2019
9.

Henry Cejudo: UFC Bantamweight Champ
Last Ranking: 9

Wait... is the King of Cringe still technically the UFC flyweight champ following the Deiveson Figueiredo weigh-in debacle? We don't even want to know the answer to this.

LAST FIGHT: Def. Marlon Moraes (TKO) on 8 June 2019 at UFC 238
10.

Stipe Miocic: UFC Heavyweight Champ
Last Ranking: 10

Did Stipe finally agree to terms on a triology fight with Daniel Cormier?? There are some signs out there pointing to yes...

LAST FIGHT: Def. Daniel Cormier (TKO) on 17 August 2019 at UFC 241
Tier 2
11) Oleksandr Usyk
12) Daniel Cormier
13) Kamaru Usman
14) Israel Adesanya
15) Demetrious Johnson
16) Tony Ferguson
17) Valentina Schevchenko
18) Katie Taylor
19) Gennady Golovkin
20) Mikey Garcia
Tier 3
21) Alexander Volkanovski
22) Tyson Fury
23) Manny Pacquiao
24) Claressa Shields
25) Juan Francisco Estrada
26) Dustin Poirier
27) Max Holloway
28) Conor McGregor
29) Artur Beterbiev
30) Tyron Woodley
Honorable Mentions
Douglas Lima, Zhang Weili, Robert Whittaker, Cecilia Braekhus, Ryan Bader
Frequently Asked Questions
Q1: How are these rankings determined? Are complex analytics involved?
A1: No. There is no mathematical formula. There is no panel of voters. This ranking is fully subjective for the sake of debate, and mostly considers overall dominance, longevity, and degree of difficulty (for instance, champs who have moved up or down across weight divisions for tougher tests).
Q2: How can you possibly compare a male MMA fighter to a female boxer?? It's impossible.
A2: *Sips tea*
Q3: Who gained and fell the most spots since the last rankings?
A3: The biggest gainer was Valentina Shevchenko, who jumped up from 25th to 17th. Tyson Fury was another notable mover, ascending from 28th to 22nd. Kamaru Usman moved up a single spot, switching places with the Last Stylebender, Israel Adesanya. The only change in the top 10 features Jon Jones losing his No. 4 spot to Terence Crawford. Deontay Wilder dropped out of the rankings.
Q4: Are you saying that Amanda Nunes could ransack every other mixed martial artist and boxer alive? WTF!!
A4: Maybe.
Q5: How come [FIGHTER A], who is a palooka devoid of a single legitimate skill, is ranked ahead of [FIGHTER B], who is the undisputed GOAT and basically a living god?
A5: Hey, like 12uppercut on Facebook!