12 Funniest Tweets About the Nationals Defeating the Astros to Capture First-Ever World Series
By Thomas Carannante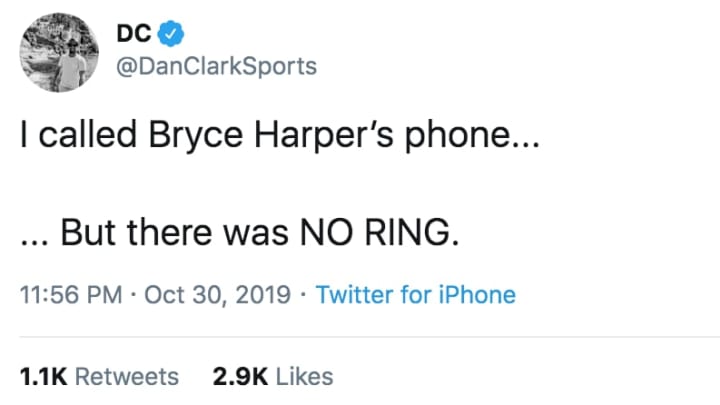 Color the baseball world shocked. The Washington Nationals just became the first team in MLB history to win a World Series and defeat their opponent in all four road games, much to the dismay of Houston Astros fans.
But guess what? Astros fans don't even have it that bad right now compared to former National Bryce Harper, who is getting destroyed on Twitter.
There's absolutely no way he lives that down.
It's gotta be tough watching your former teammates celebrating an epic World Series run.
On the outside looking in...
Anthony Rendon and Juan Soto sure made him an afterthought, didn't they?
Speaking of Soto, think this is how he'll answer the congratulatory phone call from Harper?
Because we know Soto won't be able to call him...
Got 'em.
Remember when Harper was the young phenom who was supposed to lead the Nationals to a World Series title?
Yup, that's Soto now. And Harper? Well...
It's a lonely world out there, isn't it?
Seriously though, some counseling would go a long way.
After all, he's got the cash.
One guy who's out of a lot of cash, however, is Houston superfan Mattress Mack. $20 mil in the hole...
While Washington DC celebrates, Harper is left wondering what could have been if he stayed with the Nats and Mattress Mack's fantastic gambling extravaganza ended up being one of the most disheartening storylines ever.