10 Surprise Players Who Could Be Moved Before MLB Trade Deadline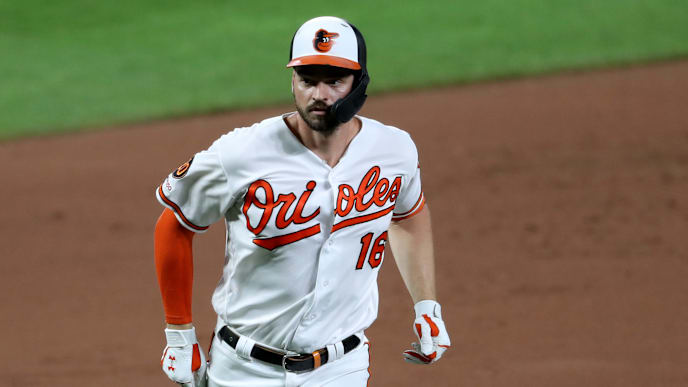 While names like Marcus Stroman, Madison Bumgarner and Trevor Bauer continue to dominate the MLB rumor mill ahead of the trade deadline, several teams could be plotting surprise moves to shake up the league in a big way. While you won't see these trade candidates coming, they could be just as impactful as a deal for Stroman or Bauer.
10.

Marlins SP Trevor Richards
For as comically bad as Miami is this year, they actually have some decent starting pitching thanks to the likes of Caleb Smith and All-Star Sandy Alcantara. Richards, who has a 3-11 record that hides a 4.24 ERA and one of the best changeups in the NL, isn't amazing enough to warrant being a part of the long-term core, but has enough promise as a 26-year-old to warrant a few good prospects in return. He could be a solid No. 4 or No. 5 starter on a playoff team.
9.

Rockies OF Ian Desmond
It's the classic Colorado dilemma. Pitchers you thought had figured Coors Field out have been getting shelled all year, and your surplus of offensive firepower isn't moving the needle in the standings. The Rockies have bee sticking Desmond, a natural shortstop, everywhere from first base to center field, where he's shown he's arguably the worst defensive player in the league. Still, he's hitting .272 with 12 home runs in 87 games, and a power-needy team could flip an A-ball prospect or two Colorado's way in exchange for Desmond.
8.

Blue Jays SS Freddy Galvis
A super-reliable shortstop who only missed four games in the three seasons prior to this one, Galvis is hitting .274 with 15 home runs while playing more than solid defense on a Blue Jays team destined for a fire sale in order to give their wave of talented prospects a spot on the big league roster. With Galvis traded, the Blue Jays could add even more prospects to their hoard while giving shortstop Bo Bichette a clear path to major league at-bats.
7.

Reds RP Amir Garrett
A former top prospect who flopped as a starter, Garrett has reinvented himself as an ace lefty reliever for the Reds, going 4-1 with a 1.66 ERA and a 1.9 WAR in just 43 games. Still just 27 years old and in command of some electric stuff, Garrett could be a very intriguing piece if the Reds keep losing and move into seller territory. There's always going to be a market for left-handed relievers who can get clutch outs in the postseason.
6.

Yankees OF Clint Frazier
Despite hitting .283 with 22 extra base hits and 11 home runs in just 53 games, the Yankees have sentenced Clint Frazier to a stint in Triple-A while Mike Tauchmann is up with the big league team taking his at bats. If the Yankees want to pull of a Steinbrenner move and go big game hunting, then Frazier will almost certainly need to be included as part of the package. It will get him a role where he'll get MLB time, and will facilitate a trade that will bring the Yankees a superstar. Frazier is considered a "surprise" candidate because reports have suggested the Yankees won't deal him unless they can get a controllable pitcher, which, you know, is never easy.
5.

Padres CP Kirby Yates
Yates was the Padres' lone representative in the All-Star game this year, as he put together one of the most unexpectedly dominant campaigns in the league, sporting a 1.04 ERA and an NL-best 31 saves. The Padres have no problem scoring runs, but their lack of starting pitching has sabotaged them this season. Yates might be the biggest asset left on the market, and would bring back a favorable return if San Diego decided to sell. Then again, the Pads are in a tough spot because they're five games out of the Wild Card and might be hard-pressed to give up the best reliever in the NL, so his departure is far from guaranteed.
4.

Rangers SP Lance Lynn
After a below average season for the Twins and Yankees last year, Lynn has been reborn in Texas, racking up an AL-best 12 wins and 2.93 FIP to go along with a 3.87 ERA. At age 32, Lynn won't require a haul of incredibly talented prospects in order for a contender to acquire him, but should also give a depleted Rangers farm system enough of a boost to better prepare for the future.
3.

Orioles OF Trey Mancini
With how moribund the Orioles have been this year, and how they still have a poor farm system even after they drafted Adley Rutschman, just about everyone should be on the block. Some feel that Mancini is a long-term building block, but you're not going to get more value for anyone on that roster than him. With 19 home runs, a .287 average, and the versatility to play both corner outfield spots and first base, Mancini could bring the Orioles back a top prospect if one team gets desperate enough.
2.

Royals UTIL Whit Merrifield
Despite Dayton Moore's assertion that the Royals aren't trading Merrifield, a poor farm system and the utility player's All-Star season could force his hand. After leading the league in steals the last two years, Merrifield made the All-Star team this year after leading the AL in hits -- which he also did in 2018 -- and triples. A consistent hitter who can play almost every position, Merrifield would draw interest from almost every contender if he hit the market.
1.

White Sox 1B Jose Abreu
While the White Sox had some life after a strong month of June, they have since regressed to their mean and have reignited trade talks surrounding their star first baseman. The 32-year-old Abreu has done nothing but rake ever since he arrived in Chicago, and he's put together another All-Star year thanks to a .273 average and 21 home runs. As the top prospects the team has acquired over the last few years start to make their debuts, an Abreu trade could net as big a windfall as the Jose Quintana deal that brought them Eloy Jimenez.