10 Funniest Tweets After 49ers Ran All Over Packers Into the Super Bowl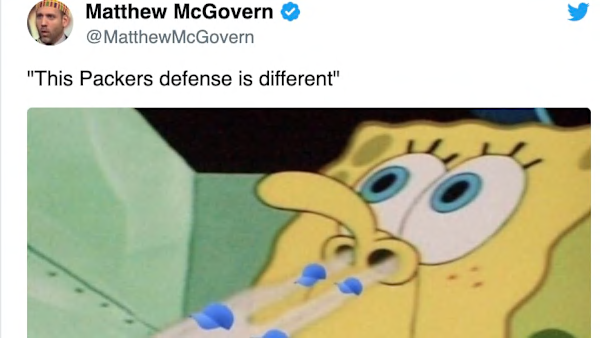 The Green Bay Packers were somehow not prepared for this, and no amount of Aaron Rodgers' useless spinning around could possibly dig them out of this cavernous hole.
Instead of a tough battle and a game where it was clear Matt LaFleur, Rodgers, and the Pack had made adjustments from their regular season blowout loss in San Francisco, we watched a formerly-respected GOAT get unfortunately skinned on live television.
The Packers did nothing, the Niners did half the things an offense usually does, and still, they're headed to Miami.
Jimmy Garoppolo passed the ball six times to amass this lead. Six times! Still, Green Bay had zilch for them.
It's not like Green Bay didn't have a Hail Mary plan here, though. Aaron Rodgers was ON IT.
Nah, just kidding, he was not.
The 49ers, on the other hand, were LOVING the misery of this throwback game.
Nothing better!
Out of all the supreme clowns that are going to deservedly get roasted for this one, the Packers defense will ultimately tie for the Top Clown.
This was supposed to be dif--different? The Smith Brothers, right?
They're no longer brothers. How long 'til that gimmick gets abandoned?
I think America checked out at halftime of this one, except for Rob Lowe, who stayed around to be goshdarn ruthless.
This was lit'rally the WORST NFC Championship ever.
I guess the worst part is the Packers didn't even lose to an NFL team?
What was this useless 1940s mess? This was actually dumb!
Bottom line is, Raheem Mostert absolutely went to town on the Pack, and the Pack did not hit back.
Or, in summation:
Yeah, that was it.