Texans LB Josh Keyes Reveals Wild Story About How Boston College Banned Him From Games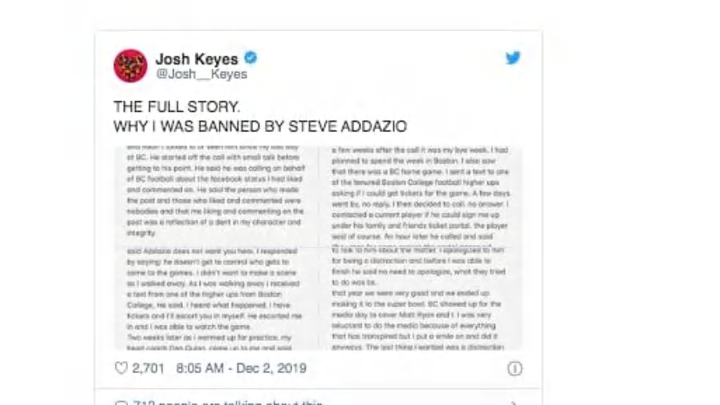 To say that Steve Addazio overstayed his welcome at Boston College would be a massive understatement.
The 60-year-old head coach tallied a 44-44 record across seven seasons with the Eagles, and was rightfully axed this week following a 6-6 campaign.
In the wake of his canning, former BC players have come out to voice their indifference towards Addazio, but none was more significant than current Houston Texans linebacker Josh Keyes, who sounded off on Twitter late Monday night to accuse Addazio of trying to ban him from games.
Per Keyes, it all started in 2016 (when he was a member of the Atlanta Falcons) when he wrote, "Addazio does not know how to recruit and that the only success he's had came from the players inherited when he took the job," on the Facebook post of another former Eagle.
Somehow, that criticism made its way to the school because Keyes received a call from a strength and conditioning coach, who subsequently lambasted him for berating Addazio.
As expected, Keyes responded by rightfully asserting he possesses the right to come down on his alma mater and Addazio.
A few weeks later, Keyes was in Boston and intended on taking in a game at Alumni Stadium. He even texted a few of the football program's higher-ups to get tickets, but they didn't get back to him.
In response, Keyes attempted to purchase tickets at the box office where that employee allegedly said, "Addazio does not want you hear."
Keyes was eventually escorted into the stadium so he could watch the game, but the apparent agenda against him didn't end there.
Shortly after, Addazio allegedly reached out to Falcons head coach Dan Quinn about the Facebook comment in an effort to derail Keyes' pro career.
Of course, Quinn didn't read much into it, and the saga ended.
That was certainly a lot to swallow and it's definitely not a good look for Boston College and Addazio.
Based on the details of the allegations, we would be surprised if the school and Addazio didn't (separately) respond to them. Hopefully for Keyes, the new BC coach doesn't act the same way Addazio did.