Seahawks' Duane Brown Called Out Warren Sharp for Criticizing Him for 'Giving up' on Play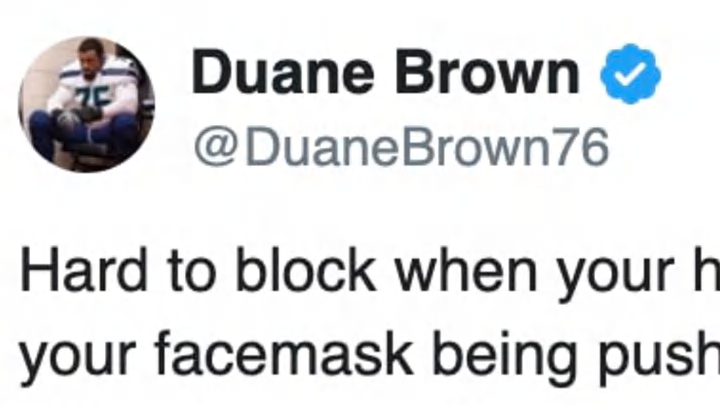 Not only did the Seattle Seahawks pull off the win over the Minnesota Vikings on Monday Night Football, but left tackle Duane Brown got an additional victory in the aftermath, defending himself for a play that looked odd at first blush.
In the course of repairing his own reputation after seemingly giving up on a play to complain, resulting in a sack of Russell Wilson, Brown (who knows the play best) took a shot at NFL analyst Warren Sharp.
Sharp appeared to make a fair point in saying Brown "quit" on a play that resulted in a sack of quarterback Russell Wilson, but Brown went full attack mode in response.
Brown was absolutely right in saying Vikings defensive end Ifeadi Odenigbo put his hands to his facemask and nearly knocked off his helmet, yet was not awarded a penalty. More importantly, though, he called out Sharp not only for not being a player, but also not addressing him directly.
The Geraldo comment is tough to parse. Could he actually be referring to all the blunders Geraldo Rivera has made, most notably when he over-promoted the live opening of Al Capone's vault only to find almost nothing in it? We hope so, but it's probably something more personal.
Brown also backed up his comments, not just with a win, but with solid run blocking stats.
So, in essence, Duane Brown is calling Warren Sharp the low point of journalism. If you're going to call out a guy for taking a clear penalty, you better be able to both say it to his face and back it up. Naturally, Sharp has not yet responded to Brown's tweet yet.