As Gianluigi Buffon fiddled with the velcro on his gloves, striding out into a barren Allianz Stadium, the 'Maradona of Goalkeepers' added another landmark moment to the weighty tome detailing his achievements.
Juventus' regulation 4-1 win over Torino was Buffon's 648th appearance in Serie A, overtaking the record held by Milan legend Paolo Maldini, who had sat atop the chart for the best part of 15 years.
Buffon was denied the pomp and ceremony such a seismic occasion deserves, given the fan-less conditions in which this cold addendum to the campaign is played. But if we spool the tape back to Buffon's Serie A debut - and on 19 November 1995 they would definitely have been using tape - the legendary keeper's start to life in the top flight took place in rather contrasting surroundings.
In front of a rammed Ennio Tardini, a 17-year-old Buffon was thrown in at the deep end, making his first senior appearance as Parma took on the mighty AC Milan in a top of the table clash. All three winners of the Ballon d'Or between 1993 and 1995 started the game but it was the kid between the sticks who, arguably, has left the greatest impression on the sport.
For even an experienced pro, the prospect of facing Milan in this period - a side that had reached the previous three Champions League finals while claiming three of the past four league titles on offer - was daunting.
Yet, if he felt the pressure, there was scant evidence on the innocent face of a teenage Buffon.
Parma's precocious talent had already been splashed across the front page of La Gazzetta dello Sport two years prior to this debut thanks to his Under-15 World Cup heroics and even before his big break came, Buffon was hardly lacking in confidence.
The story goes that Parma's goalkeeping coach Ermes Fulgoni once told him: "You'll be starting in Serie A by the time you're 20." Instead of simply taking this as the fulsome compliment it was, Buffon countered: "What will I do until then?"
This self-assuredness was what convinced the revered Parma manager, Nevio Scala, that this untested teenager was the one to replace the injured first-choice Luca Bucci.
When told he would be making his debut, Scala recalled the confidence with which Buffon delivered his response: "He said it without hesitation and with a positive swagger," the former manager told Goal.
1⃣/6⃣4⃣8⃣

Tonight, Gigi #Buffon broke the record for the most @SerieA_EN appearances of all time.

But let's not forget where it all began: a debut clean sheet in Parma vs. AC Milan back in 1995 ???

Congratulations to a true legend of the game ?⚽?? pic.twitter.com/nJKfT3h3Rf

— Parma Calcio 1913 (@ParmaCalcio_en) July 4, 2020
"He was fully aware of what I was asking and yet conveyed all of this confidence to me. The game was against Milan, after all!...But he didn't seem to feel the weight of such a great responsibility. And this convinced me 100% to pick him."
In fact, Buffon was so content in the lead up to the match that he supposedly fell asleep during the ten-minute coach ride from hotel to stadium. If he wasn't awake already, two slaps (of encouragement) across the face from Hristo Stoichkov ahead of kick-off would have done the job.
In a 0-0 draw, Buffon produced a commanding display, time and again thwarting Roberto Baggio and George Weah with a performance that belied his age. Post-match, Buffon humbly offered: "I think I managed a few good saves. I'm not a world-beater, but I can do my bit."
Dino Zoff, Italian goalkeeping royalty, was more effusive in his summation when he declared that he had 'never seen a debut like his for the personality and quality he showed'. The baptism of fire continued as Juventus - who would win the Champions League that season - were next up for Buffon. Alessandro Del Piero's early set piece tempted a boisterous Buffon off his line, only for the 17-year-old to furiously backpedal in vain as Ciro Ferrara nodded in the opener.
Nevertheless, he quickly regained his composure to make some vital stops as Parma secured a 1-1 draw against that campaign's runners-up.
Buffon made a further handful of appearances - and numerous, eye-catching saves - before the Christmas break. However, Bucci reclaimed his place in the new year and Buffon received offers from Verona and Genoa as he hopped between the youth team and Serie A bench.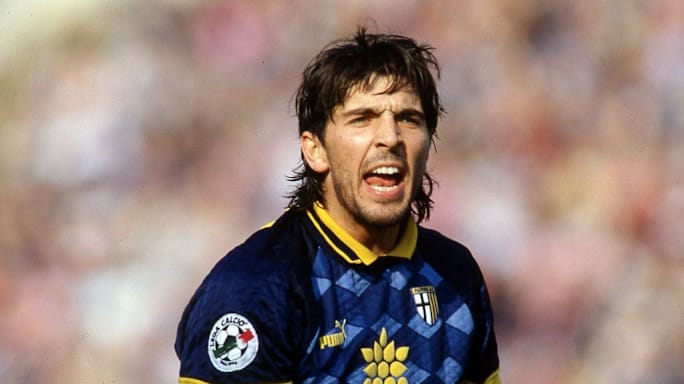 In total, Buffon's debut campaign brought a return of nine league appearance, three clean sheets, and the admiring glances of anyone fortunate enough to get a glimpse of him in action.
Parma's sluggish start to the following campaign prompted a young Carlo Ancelotti to appoint Buffon as the club's number one. Almost a quarter of a century later and the 42-year-old is still playing in the top tier, even extending his stay (at least) one more year.
When the emboldened teenager replaced Bucci, a fine goalkeeper in his own right, there may have been some bitterness. But, given the legendary figure Buffon has become, the dethroned number one has come to peace with it. As he often says to this day: 'My only misfortune was having a phenomenon behind me'.
---