Cubs' Tony Kemp Responds After Being Victimized by Another Brutal CB Bucknor Strike 3 Call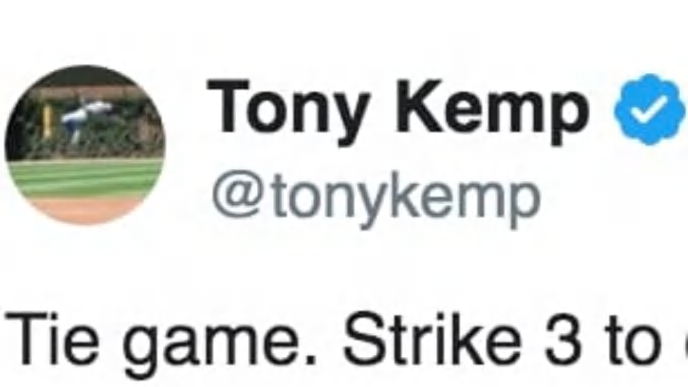 Chicago Cubs infielder Tony Kemp fell victim to an absolutely unjust strike three call from home plate umpire CB Bucknor on Tuesday night, ending the eighth inning in a game tied 8-8.
The pitch was nowhere near the plate, clearly missing the target both low and outside, yet somehow Bucknor opted to ring Kemp up, halting a potential Cubs rally.
Clearly displeased with the game-changing call that ultimately led to the Cubs losing, Kemp took to Twitter to respond to a video of the moment, and he was less than thrilled.
Yep, Kemp was fully aware of the gravity of the situation, and to no fault of his own, he was denied the opportunity to put a ball in play for his club.
This seems to be a common occurrence for Kemp, unfortunately, as he was rung up against the Phillies in mid-August on another egregious call.
While it's understandable to miss some calls now and again, this called strike from Bucknor was truly unacceptable. The pitch didn't approach the zone, and his decision to sit down Kemp had a major impact on the game's outcome.
San Diego would walk-off in the 10th inning, leaving many Cubs fans disgruntled over the prospect of what could have been a game-altering at-bat, and rightfully so.
While Kemp isn't necessarily a standout hitter, slashing just .164/.200/.218 since joining the Cubs, the 27-year-old certainly could have kept the inning afloat.